July 4th weekend is a great time to gather your friends and family and celebrate our great nation. It's also a great time to gather your friends and family and have a reason to celebrate life in general. We took the opportunity here to gather and enjoy each other's company for lunch on a sunny Thursday to give you some fun ideas for a July 4th barbecue. With a backbone of good old burgers and dogs, we've compiled a list of some easy recipes that you can bring with you to a soiree, or impress your guests with at home!
Have I mentioned before that I'm not big into rules when it comes to cooking? I think it's important that you are able to impart your own flair into recipes! So as you're reading through, ask yourself if something else might sound better to you – and do it! It's all about the adventure!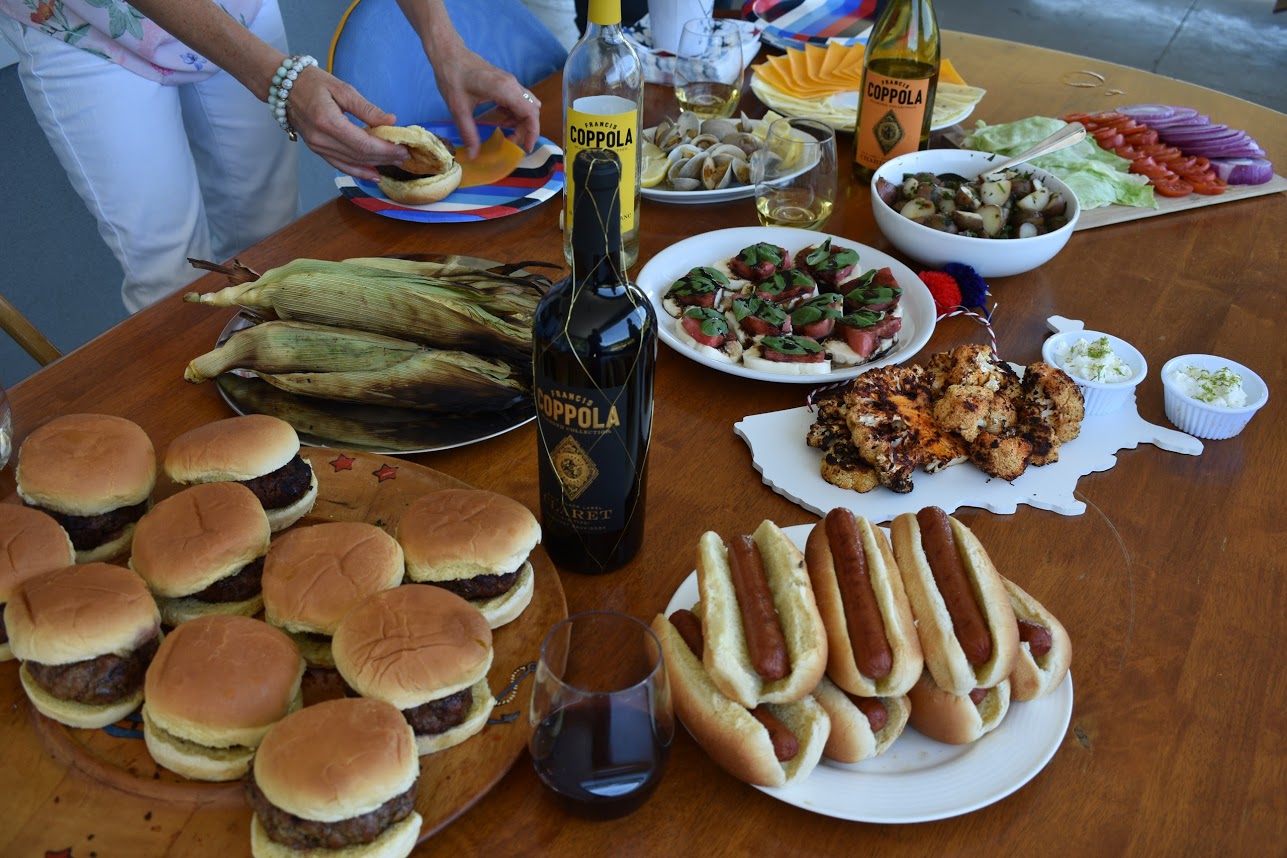 Burgers
For burgers, I have a few pieces of advice that I live by:
The ground beef should contain no less than 20% fat
No eggs – this is not a meatloaf
Don't manhandle these things! The more you handle them, the tougher the meat will get. We're looking for clouds of beef, not hockey pucks.
The goal is a one flip burger. Once the burger is on the grill – let it stay there for five/six minutes without touching it. Don't open the grill, don't poke the burger, don't flip it. Let it be. You'll thank me later.
Ingredients (these can be multiplied based on guests – this is for 4 guests)
2 lbs of ground beef (see above, I go 80/20)
1 sweet yellow onion, ground
2 tbsp. bread crumbs
Salt and Pepper
Any toppings you desire
Potato Rolls
Method
Turn your grill on high.
Combine the beef and onion in a bowl. Add salt and pepper to taste.
Craft 4 patties from the beef mixture – again, be careful not to handle too much.
Throw the patties on the grill and let them stay there for about 5 minutes. Flip them and cook for another 4-5 minutes for medium rare burgers (about 145 degrees).
Top with your preference of toppings and dig in.
Italian Potato Salad
This might be one of the simplest, most delicious side dishes for a barbecue I've ever had. It's hearty and herbaceous and goes perfectly with a burger.
Ingredients
1 lb small red potatoes, boiled until fork tender
1/4 c. parsley, finely chopped
1/8 c. fresh oregano, finely chopped
¼ c. olive oil
3 tbsp. red vinegar
Salt and Pepper to taste
Method
Let potatoes cool and cut them into quarters
Mix potatoes with herbs, oil and vinegar and salt and pepper to taste.
Open a bottle of wine and applaud your simple victories in life.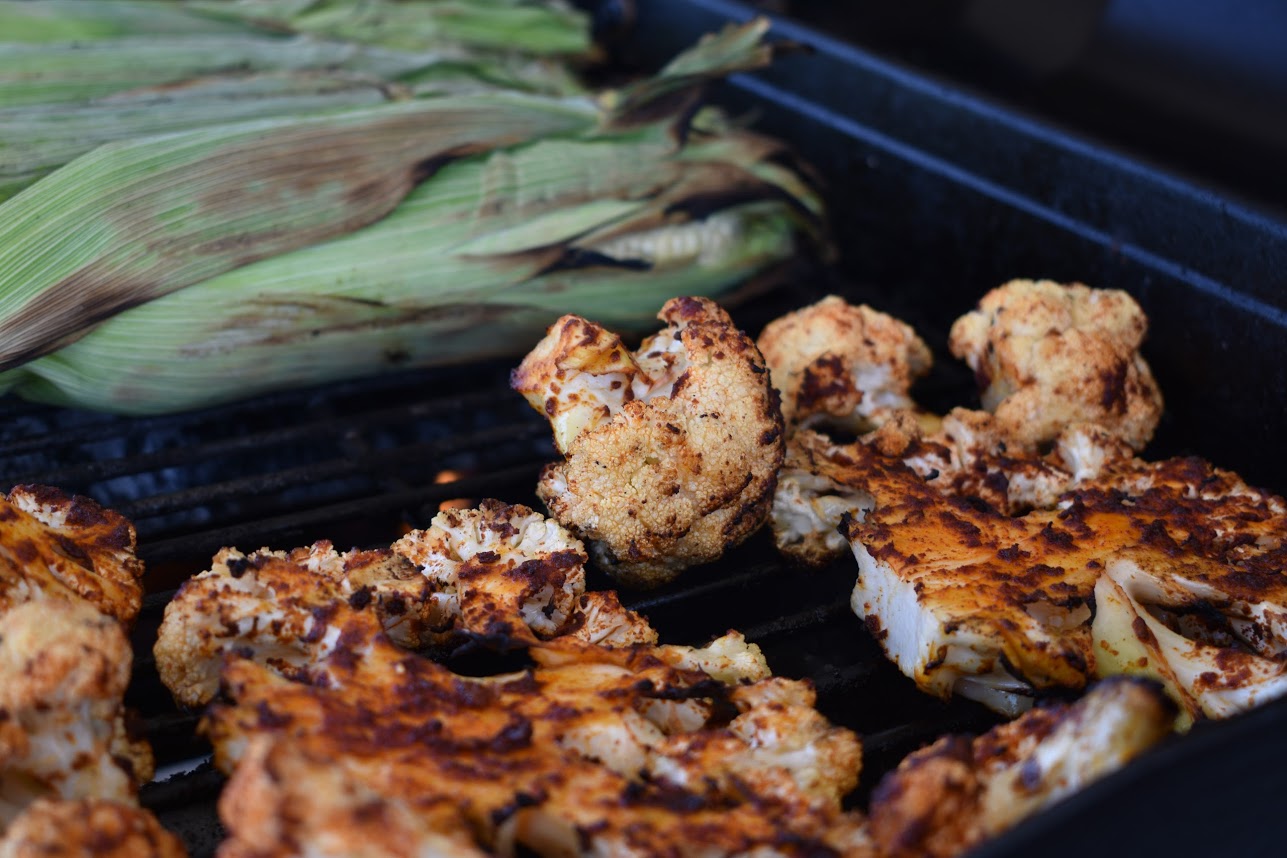 Grilled Cauliflower
The beauty of grilled cauliflower is that it takes on the flavor of any spice combination your heart desires! Today we used smoked paprika and lime juice – but could have just as easily used cumin and lemon juice or soy sauce and galangal.
It's as simple as slicing the cauliflower into steaks, marinating the cauliflower in the spice blend liquid and a bit of oil for a few hours and then throwing it right on the grill – wait for a bit of caramelization and flip. Serve with a bit of spiced yogurt and watch your guests "ooh" and "ahh" all night.
Watermelon Caprese Salad
Another easy way to impress is to flip a classic on it's head. You know that we're big fans of savory watermelon here – and this is just another way to take the fruit from sweet to SUH-WEET.
Ingredients
½ small seedless watermelon, sliced
1 large ball buffalo mozzarella sliced
Basil Leaves
Reduced Balsamic Vinegar (we used blueberry balsamic for an added summer zing)
Method
Lay mozzarella slices on plate.
Stack watermelon slices on top of each mozzarella slice.
Place basil leaves atop each stack.
Drizzle with balsamic.
Enjoy!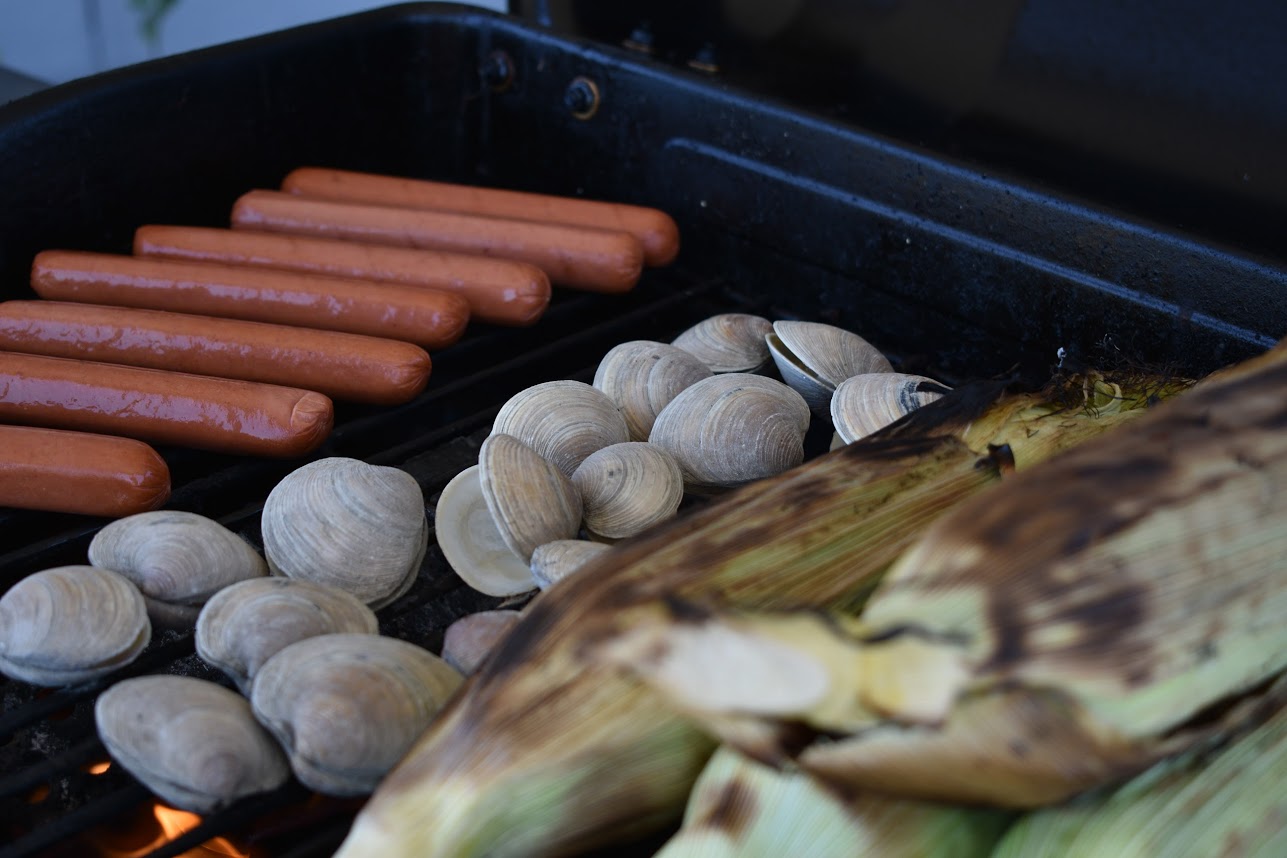 John, one of my colleagues brought Grilled Clams and Corn and says, "Growing up in New England, summers were all about seafood and rustic simplicity. While we may relish in the challenge of compiling a 5-course dinner or understanding the latest molecular gastronomy trends, at the end of the day some of our best memories will always be great meals prepared simply with a refreshing drink surrounded by friends and family. Two of my favorite side dishes at a summer bbq will be the easiest recipes you'll make all year, so yea, it's worth the 'effort'"
Grilled Clams
Place littleneck clams on the grill until they open, top with lemon.
Grilled Corn
Cut any strands of silk from top of corn to prevent burning
Do not remove husks, this will allow corn to self-steam and not dry out
Place on grill, rotating occasionally for 20 minutes
Playlist
Bruce Springsteen – Thunder Road
LCD Soundsystem – Home
The National – Fake Empire
Muddy Waters – Deep Down in Florida
Hamilton Leithauser – Rough Going
New Order – Temptation
Marc Cohn – Walking in Memphis
Me First & The Gimme Gimmes – Danny's Song
Jefferson Starship – Jane
Kim Wilde – Kids in America