With no empirical evidence to back up my theory, I'd say that fall is the most beloved of all seasons. It's magical briskness has a way of charming even the most prudent cold weather hater – it's certainly the most romantic of the seasons. At the risk of sounding trite, who doesn't love to stroll the farmers markets and survey all of the bright oranges, vibrant yellows and extraordinary greens (sounds kind of like our Diamond Collection Cans, hmm) of the squash selection. There is so much you can do with squash and so much of it goes divinely with our Diamond Collection wines – roasted butternut squash, sweet delicata squash for topping peppery green salads and who doesn't love a stuffed acorn squash? But today, we're celebrating the squash ubiquitous with fall – the pumpkin – in it's most fall ready state – soup! There are so many different ways to craft a simple and easy pumpkin soup, but I love the subtle zing of the lemongrass and ginger – it really complements the richness of our Diamond Collection Chardonnay and Claret. So enjoy, but remember – this is but a jumping off point – change the flavors to suit your tastes!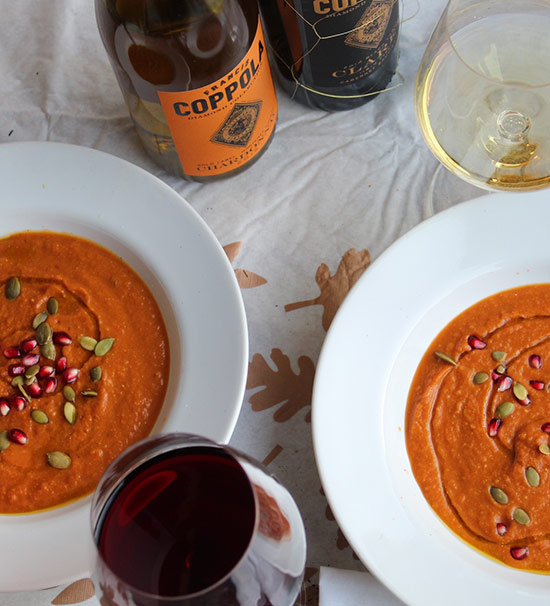 Pumpkin Soup
Ingredients
29 oz Pumpkin Puree (Store bought is just fine – but if you have some sugar pumpkins that you are excited to use, about 3 will do the trick – cut them in half, roast them until soft at 350 degrees and when cool, scoop out the interior!)
32 oz. Chicken Stock
12 oz. Coconut Milk
1 clove garlic, minced
3 shallots, minced
1 Tbsp. Fresh Ginger, minced
1 Tbsp. Lemongrass, minced
1 Tbsp. Ground Cumin
1 Tsp. Ground Cardamom
Olive Oil (for cooking and garnish)
Salt
Pumpkin Seeds & Pomegranate arils for garnish
Method
To a large saucepan over medium/high heat add about 2 Tbsp. of Olive oil, along with your garlic, shallots, ginger, lemongrass and a large pinch of salt. Cook for about 2 minutes until all ingredients are soft.
Add pumpkin, stock and coconut milk. Stir to incorporate all ingredients and bring to a simmer.
Once liquid is simmering, add ground cumin and cardamom and stir to incorporate.
Let simmer for about 20 minutes to ensure all flavors mingle.
Taste – depending on your preference, you might want to add more salt, potentially some pepper or maybe a bit of lemon juice? It all depends on your palette!
Ladle into bowls and top with a dash of olive oil, some pumpkin seeds and pomegranate arils. If you don't have these, have fun – how about some toasted garlic or sunflower seeds? The world is your oyster.
Enjoy with a glass of Diamond Collection Chardonnay or Claret – and listen to the list of recently released tunes below!
Playlist
Happy Hour – Weezer
Little Dark Age – MGMT
Aeronaut – William Patrick Corgan (FKA Billy Corgan)
It's a Shame – First Aid Kit
I'll be Your Pilot – Belle and Sebastian
Cherry Heart – The Shins
Cover Me (Remix) – Texas Gentleman
Up All Night – Beck
I love you but I'm Lost – Tears for Fears
Togetherness - Fischerspooner