This summer, there is absolutely no doubt that you will be invited to a barbeque (or four). We wanted to make sure that you were armed with a few super easy crowd pleasers that are sure to get a few "ooohs" and even more "aahs." So this summer, leave the macaroni salad at home.
Watermelon Feta Salad
This salad pleases everyone. A little sweet, a little tangy, a little salty and fresh from the mint. A great side to just about anything straight off the grill.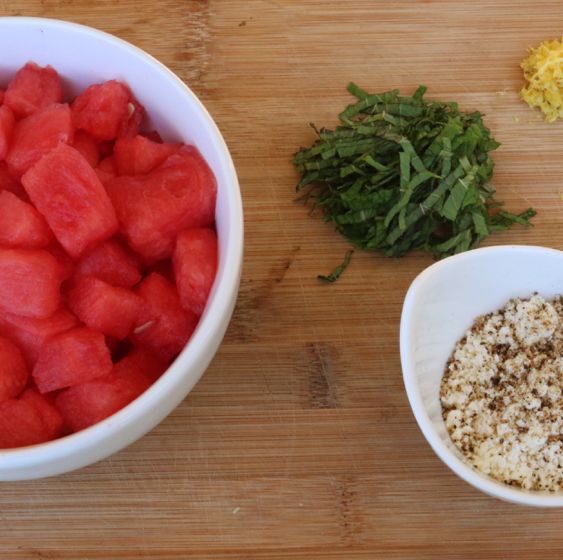 Ingredients
1 seedless watermelon
1 handful of fresh mint, julienned
¼ c. crumbled feta
Zest of one medium lemon
1 tbsp. black pepper
Salt to taste
Method
1. Half the watermelon and scoop out the insides, leaving as much intact as possible (you'll want to use the shell as a vessel. Cue the "oohs").
2. Cut watermelon into cubes, or triangles or really any shape you'd like.
3. Toss the cut watermelon and about a teaspoon of salt and let drain in a colander in the sink (this will get the extra liquid out of the watermelon to ensure the salad doesn't end up soggy!) Let drain for about 10 minutes.
4. Once the watermelon has drained, toss with the mint, feta, pepper and salt and place back in watermelon shell.
5. Voila. Grab a glass of Diamond Collection Pinot Grigio and read the next chapter of your favorite summer read with all the time you've saved!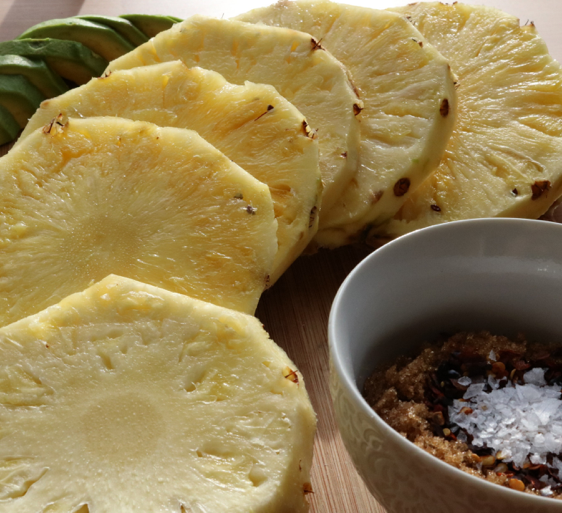 Grilled Pineapple Salad
This salad gives a serious umami kick with its bittersweet caramelization paired with the heat of the red pepper flakes and the lusciousness of the avocado. This might just become your go-to summer lunch.
Ingredients
¾ Ripe Pineapple. Cut in rounds
1 avocado, sliced
½ c. brown sugar
1 ½ Tablespoons Mamarella Red Pepper Flakes
1 teaspoon salt
Method
1. Turn your grill on high heat, and while you're at it, turn up the jams.
2. Mix the brown sugar, red pepper flakes and salt in a bowl.
3. Coat the pineapple with the sweet and spicy mix. Make sure you've got coverage on both sides.
4. Place the pineapple slices on the grill. Grill for about 5 minutes on both sides or until the sugar carmelizes into a buttery brown color.
5. Once the pineapple has reach the desired done-ness, pull from the grill and let cool for a few minutes.
6. When cool, slice the pineapple rounds into quarters and shingle them with the slices of avocado.
7. Pour yourself a glass of Diamond Collection Chardonnay and pat yourself on the back for this truly amazing achievement.
For some tunes, try the Hipster Barbeque channel on Pandora.
For additional summer recipes and more, visit diamondadventure.com