I think that when a lot of people think of lamb, they think of celebrations, the holidays, etc. It is my opinion that lamb shouldn't be something reserved for a special occasion. It is a marvelous meat with a grassy flavor. It tastes excellent in many forms (see: lamb burger) and it's really easy to impress people with lamb and supremely hard to screw up. This is why when we had some friends from out of town come over for dinner recently, I made this beautiful, herbaceous leg of lamb. Served with a simple green salad and some of my favorite smashed potatoes, it was a true crowd pleaser. It is my philosophy that when you have people over for dinner, there should always be too much of everything. Too much food, too much wine and too much laughter.This is, of course, why we started this meal with a cheese plate, a tomato tart and a bottle of Sofia Brut Rose. And why we end the meal by sending our guests home with something sweet like homemade cookies and a can of Chardonnay!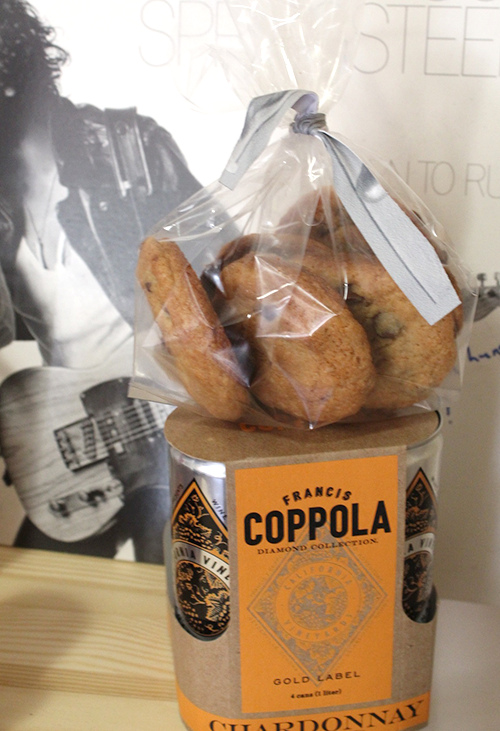 This lamb is easy and should be served alongside whatever makes you happy. Although I think that Diamond Collection Claret is the peanut butter to the lamb's jelly.
Herb Crusted Leg of Lamb
Ingredients:
1 3-4 lb. boneless leg of lamb
1 bunch parsley, flat
1 bunch rosemary
3 Tbsp. Fresh Thyme
8 cloves garlic
1 Tsp. Kosher Salt
½ C. Panko Bread Crumbs
¼ Cup Olive Oil
Method:
At least 8 hours prior to cooking the lamb, you'll need to make the rub – in a food processor, combine parsley, rosemary, thyme, garlic, olive oil and salt. Pulse until you have a beautiful green paste.
Pierce your lamb leg all over with a fork. This will help the flavors from the rub really seep into the meat.
Rub about ½ of your paste onto your lamb leg. Take a little time to massage the paste onto the lamb. This helps to tenderize the meat, but also create a more pervasive flavor.
Mix the other half of your paste with the bread crumbs and set aside.
If you can, leave your lamb out of refrigeration for about an hour after you've applied the paste.
Refrigerate your lamb for up to 12 hours (or overnight) and remove from refrigeration one hour prior to cooking.
Preheat your oven to 425 degrees.
Cook lamb at 425 degrees for 15 minutes and then lower heat to 350. For a 3-4 leg you'll want to cook it for about 45at 350 degrees to achieve rare cook (120 degrees internal temperature).
At 120 degrees, pull your lamb and carefully cover with your breadcrumb mixture. Place back in oven for about 12 minutes.
When your thermometer reads 140 degrees, you can remove your lamb and let it sit (this is very important) for about 12 minutes.
Slice your lamb - bring it out to the table for OOhhs and Ahhs and you're in business!
Don't forget to pour yourself a glass of wine. You did it!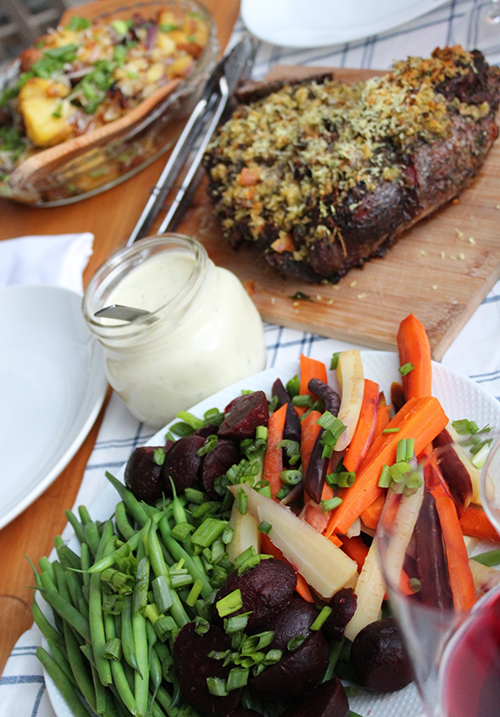 Playlist
You Make me feel like a Natural Woman – Aretha Franklin
Need You Around – The Smoking Popes
Dreaming – Blondie
Why Do I Lie? – Luscious Jackson
Slave to the Rhythm – Grace Jones
My Shot – The Roots
Sunday Morning – No Doubt
Angel of the Morning – Juice Newton
Our Lips are Sealed – The GoGos
Voices Carry – Til Tuesday