Pizza has always held a special place in my heart. I earned my chops in the art of pizza making at a wonderful wood-fired pizza restaurant outside of Philadelphia in my teens. The chef, Danielle, was a passionate Sicilian man who taught me about all of the intricacies of the process from making the dough to utilizing amazing ingredients. I have been in love with making pizza ever since.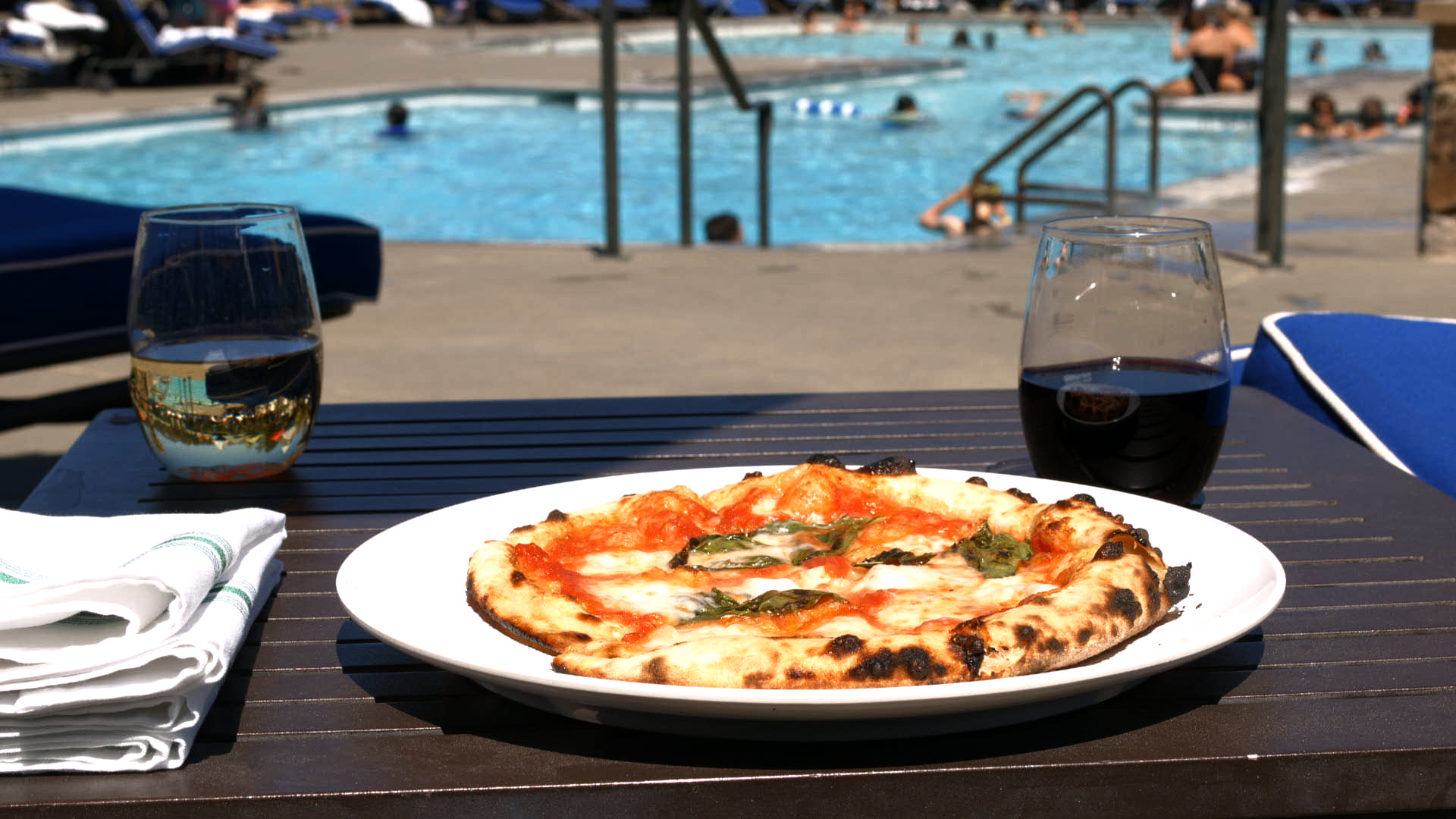 There are many reasons why, to me, pizza is the perfect food. It is hand held. It has an infinite amount of possibilities for toppings. It is a wonderful blank canvas for utilizing seasonal ingredients. It can be a balance of flavors and textures not easily achieved in the culinary world. It has a very small margin of error and, when done correctly, is a delight to eat.
The pizzas we do for the Pool Café at Francis Ford Coppola Winery are true Neapolitan style, cooked at 800 degrees. Neapolitan pizzas are spotted on the crust from the high temperature of the oven. The dough is a 3-day process where it is allowed to slowly proof and develop a wonderful flavor. The Pizza Luigino is our take off a traditional Pizza Margherita. The sauce is made by simply crushing San Marzano tomatoes. We use fresh, local, mozzarella and olive oil and finish the pizza with basil picked from our onsite Culinary Garden.

If you would like to try your hand at grilling pizzas at home this summer, start with the pizza dough recipe below. Then, preheat one side of your gas or charcoal grill to a medium heat in order to make two (2) heating zones – one (1) direct heating zone right over the heat source and one (1) indirect that is not above any open flame. Lightly brush the grates with oil. Roll out your pizza dough to your desired thickness and diameter. Gently place the dough on the preheated, direct side of the grill and cook both sides of the pizza until golden brown and slightly charred. Remove dough from grill, top the pizza with whatever ingredients you would like, and place back onto the indirect heated side of the grill. Leave on the grill until the ingredients are hot and the cheese is melted. Cut, serve and enjoy!
Pizza Dough
3 cups water, cold
.5 oz. yeast
5 cups flour, all purpose
5 oz. salt
METHOD: Mix water and yeast in the bowl of a KitchenAid for 3 minutes. Add flour and salt and mix for 9 minutes on low speed. Place dough on counter and cover with plastic wrap. Allow to proof for 20 minutes. Portion at 8 ounces. Yields about 16 pizza doughs.