Dessert is an exceptionally important part of life. It gives you a way to indulge once in a while and this cake really does the trick. It's a mix of two of my favorite desserts, tarte tatin and sour cream cake. Where a more traditional tarte tatin would have you caramelize your fruit and cover it with a layer of puff pastry, I've found that covering the fruit in this sour cream cake produces a great lemony tang to balance the ubiquitous sweetness of the fruit. This cake goes extremely well on a Sunday afternoon with a crisp glass of Diamond Collection Sauvignon Blanc and your new favorite book.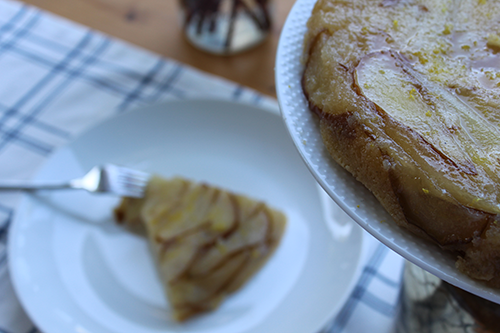 Pear Sour Cream Cake
Ingredients
3 Bosc pears, cut into ¼ inch slices
1 C. Butter, cut in small pieces at room temperature
1 C. Sugar
1 Tbsp. Vanilla Extract
Zest & Juice of One Lemon
1 C. Sour Cream or Greek Yogurt
2 Eggs
1 ¼ C. Cake Flour
½ Tsp. Baking Powder
¼ Tsp. Baking Soda
½ C. Sugar, for caramel
½ C. Butter, for caramel
⅛ C. Water
Method
Pre-heat your oven to 350 degrees.
In a stand mixer or a large bowl, cream 1 cup of sugar and 1 cup of butter.
To your creamed sugar and butter, add eggs, vanilla, sour cream, lemon juice and zest.
Once mixed, add your dry ingredients - flour, baking soda and baking powder and mix for just about 30 seconds - the batter should be loose and lumpy. Set aside.
In a large cast iron skillet, heat ½ C. of butter until melted, be careful not to let it brown.
To your melted butter, add sugar and mix until a paste forms.
To the paste, add your water and keep stirring until the liquid has the viscosity and color of honey.
Take the liquid off the heat and carefully place your pear slices into the liquid in a circular pattern, overlapping as you go. The slices from the 3 pears should get you all the way into the middle of the pan.
Pour your batter over the pears, ensuring everything is covered.
Bake for 35 minutes or until a skewer comes out of the middle of the cake clean.
When your cake is baked, pull and immediately place heatproof serving plate upside down over pan and turn your plate and pan over. Your cake should flip easily enough to remove the pan immediately.
Enjoy with a crisp glass of Diamond Collection Sauvignon Blanc and your best friends.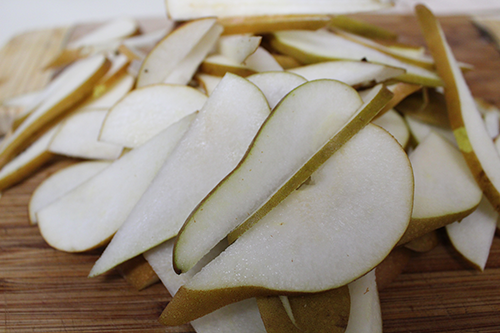 Playlist
Look it Here - Nathaniel Rateliff and The Night Sweats
Kick Drum Heart - The Avett Brothers
Silver Lining - Rilo Kiley
End it On this - No Doubt
Motel Blues - Loudon Wainwright III
Little Plastic Castle - Ani Difranco
Little of Your Love - Haim
Rashida - Rufus Wainwright
Back on the Chain Gang - The Pretenders
Cecilia - Simon and Garfunkel