Planes, trains and automobiles. After the long journey, it's all about the arrival. That feeling of finally landing at your destination, and then being ushered inside warm accommodations. The minute you arrive at Blancaneaux Lodge surrounded by lush jungle or behind the dreamy doors of Palazzo Margherita set in a sleepy Italian village, the welcome experience reads like a fairytale. Chapter one: sip a refreshing garden-to-glass cocktail, nibble on organic snacks and simply soak in luxe, majestic surroundings.
Aromatherapy, Jaguar Juice and Festive Organic Garden Dinners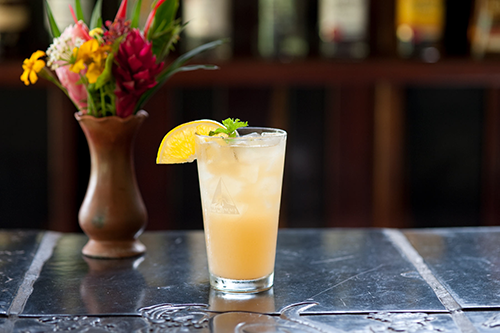 In the heart of Mountain Pine Ridge Forest Reserve, Blancaneaux Lodge is already beloved for its thatched-roof cabanas and familiar echoes of Howler monkeys. Arriving by plane? The moment your private charter touches down, a horse-drawn carriage whisks you to the stylish, rustic lodge where lovingly worn velvet couches (peppered with old school board games) are flanked by an enormous stone fireplace. Inside the Mayan-flared Jaguar Bar, relax on handmade furnishings where ceiling fans (from the set of Apocalypse Now) rotate and refresh your brow with a cool aromatherapy towel. Then, nurse the famed, house made Jaguar Juice – a concoction of local craboo liqueur, aged rum, schnapps and freshly squeezed pineapple juice. Or pop outside to rest on the mahogany deck and soak in the tranquil tropical rainforests.
In the evenings, the lodge's newly unveiled "convivial dinners" are served in the verdant organic garden. To set the mood, why not sip a handcrafted cocktail, from margaritas to mules and mixed with fragrant garden ingredients like tart sorrel, refreshing lemongrass or warming allspice appears. As you settle in, unwind in the airy open porch under a thatched roof kitchen and then feast on home-cooked delights featuring a familiar spread of green salads, pastas (spaghetti alla carbonara) and seafood like shrimp and conch. Of course, family meals are washed down with Coppola's Rosso and Bianco Pinot Grigio.
Glam Courtyards, Secret Gardens and Sipping 'Ciccio'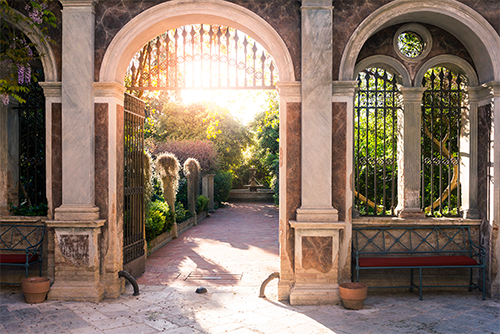 Once you arrive at the sleepy, remote Southern Italian town of Bernalda—where Francis Ford Coppola's grandfather was born—a splendid world opens up. Just outside the family's glam hideaway, Palazzo Margherita two cavernous 19th century wooden doors open to reveal a leafy inner courtyard. As your bags are whisked away, relax under a shady umbrella with a traditional 'Ciccio'; a drink made with lemon juice, Citron, tonic, vodka and fresh herbs plucked from the property's organic vegetable garden. The enchanting light-flooded grounds and garden (protected by the Italian Cultural Heritage Department) are perfect for quiet idling. Alternatively, take a refreshing dip inside the tranquil swimming pool and dry off with a Campari espresso and homemade snacks – a lovely sprawl of freshly-baked wood oven focaccia and handmade cheese alongside dried fava been fries, and bread-based fritters called 'polpette povere' (which translates to poor meatballs). For something light, enjoy a handful of fresh almonds (cracked with our chic nutcrackers). Afterwards, watch a screening of an old Italian film or better yet, indulge in a siesta in elaborate, palatial suites decorated with hand-painted ceiling frescos and Murano glass chandeliers.
Yes, you have now have arrived, and luckily the entire experience repeats itself the moment you wake up.