Summer colds are the absolute worst. They come on quick and force you to spend precious summer daylight indoors, binging on shows you've seen a hundred times. Unlike winter colds, where sometimes you welcome the break from real life, summer colds keep you away from the sun and fun of the fleeting season. I suggest that next time you feel one of these sneaky colds coming on, you preemptively treat it with a little turmeric laden chicken soup. I know what you are thinking...soup in the summer? Well we're treating fire with fire with the seriously healing powers of turmeric in this blended chicken soup (a delightful trick I learned from my aunt when a cousin had tonsillitis). And while I'm no doctor, I'd say that if you are using this as a preventive measures, a glass of Chardonnay and a vitamin rich citrus might be just the duo to pair with it.
Also, to be clear, this soup is delicious and not to be only consumed when feeling like a cold is coming on. It makes a great rainy day lunch alongside fresh bread or can be frozen for a light and easy dinner when life gets in the way of real mealtimes.
TURMERIC CHICKEN SOUP
Ingredients
1 whole roasted chicken
4 carrots, skin on, cut into ½ inch pieces
3 ribs celery, cut into ½ inch pieces
3 onions, skin on, cut into ½ inch pieces (the skin has a ton of flavor!)
2 quarts chicken broth (you can make your own – but it is much easier to purchase)
2 Tbsp. Turmeric
1 bunch parsley, rough chopped
1 bunch dill, rough chopped
Salt and pepper to taste
Method
In a large stockpot, place raw whole chicken, carrots, onions and celery.
Cover with broth and bring to a boil.
Add turmeric and turn down to a simmer.
Cook at a simmer until chicken is fully cooked, about 1 hour.
Carefully remove the chicken and let cool. Keep liquid simmering.
When chicken is cool, peel meat off of the bones and place back into the liquid.
Cool liquid to lukewarm.
Carefully, in batches, puree all ingredients in a food processor and return to stockpot.
Bring pureed batch to a boil and add your herbs. Simmer for 20 minutes and you are in business!
Tip: If you don't want to do the extra step of pureeing the soup, you can absolutely eat it like a traditional chicken soup. You might want to fish out the onion skins before serving!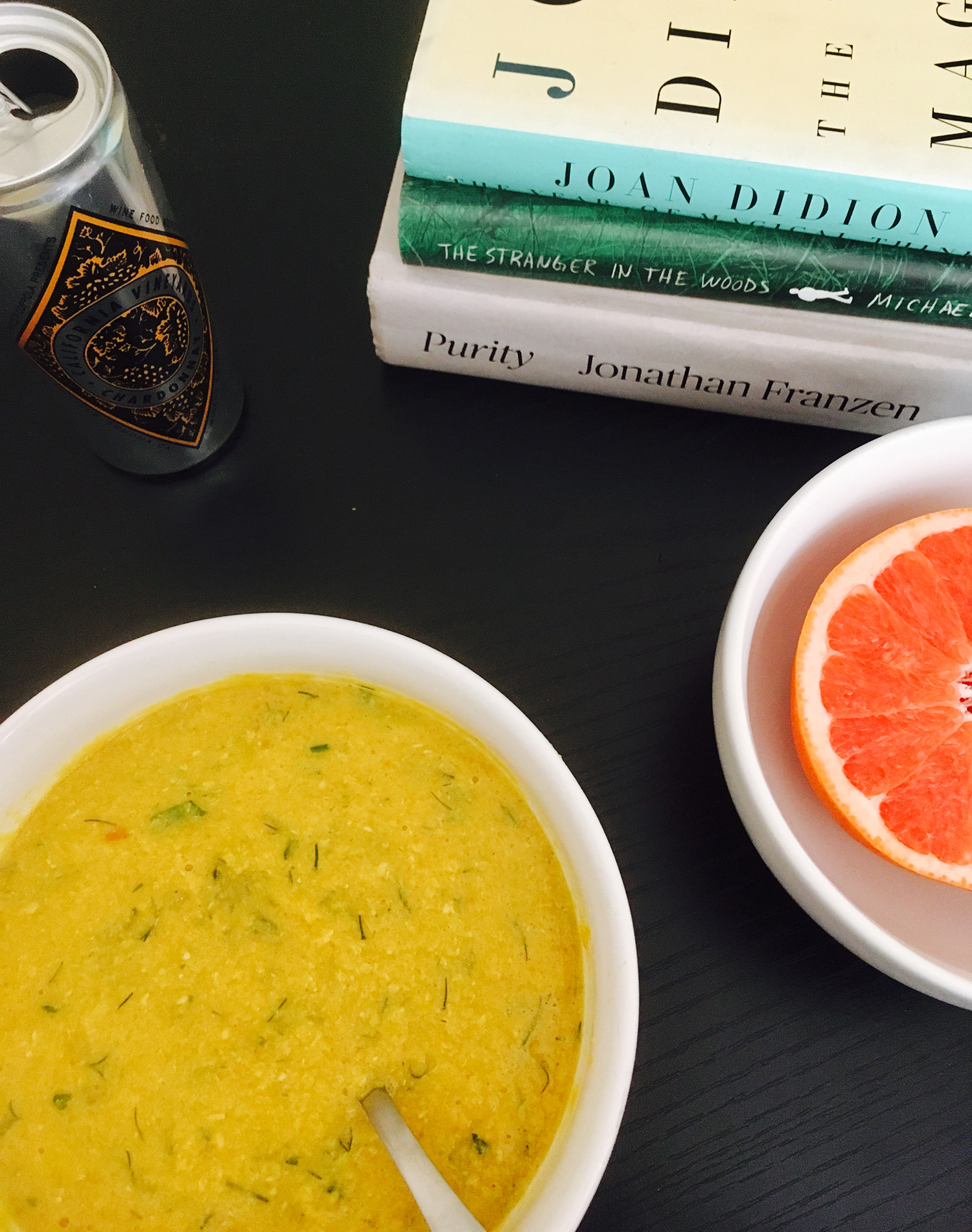 Playlist
Eet - Regina Spektor
The District Sleeps Alone Tonight - The Postal Service
Please, Please, Please Let me get what I want - She and Him
Sweet Jane - Cowboy Junkies
California Stars - Wilco
Goodbye Yellow Brick Road - Elton John
All Your Favorite Bands – Dawes
Eternally Even – Jim James
Satellite of Love – Lou Reed
Sunny – Wilson Pickett