The last few weeks of summer are so precious; you want to take it all in. Get in that last lake swim, one final camping trip, and probably one more al fresco dinner party - the kind that lasts from late afternoon to well past sunset, consists of multiple bottles of wine and lots of things to nibble on. One of the stars of these late summer soirees should be the oft forgotten fig - its season quickly fleeting, its flesh both sweet and savory and its color vibrant and indicative of these late summer days. Below you'll find two recipes that would be welcome additions to a never-ending evening - a refreshing yet hearty salad and a buttery, tangy tart. We've suggested some of our favorite pairings, but both also go delightfully with our new Diamond Collection Chardonnay in a can!
Late Summer Salad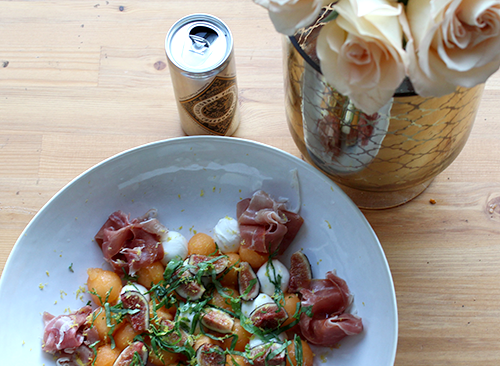 Ingredients
½ lb. fresh figs, quartered
1 ½ C. Cantaloupe, cut into 1 inch pieces or balled
4 oz. Mozzarella balls
4 oz. Prosciutto
Zest of one lemon
6 leaves of basil, chiffonade
Kosher Salt
Olive Oil

Method
Combine figs, cantaloupe, mozzarella and prosciutto in a medium sized bowl.
Sprinkle with salt, lemon zest and basil and drizzle with olive oil.
Show off your beautiful salad that took less than ten minutes to make. Enjoy a nice glass of Diamond Collection Pinot Grigio to celebrate.
Late Summer Tart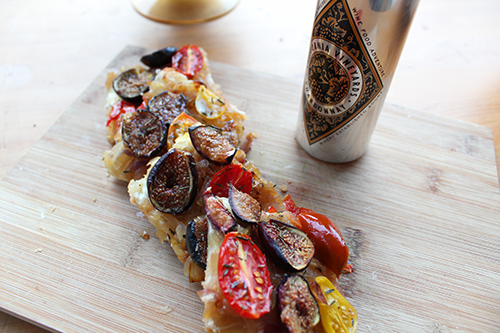 Ingredients
1 sheet puff pastry
6 oz Chevre (goat cheese)
8 fresh figs, halved
10 grape tomatoes, halved
1 Tsp. Thyme
Kosher Salt
Olive Oil
1 egg white
Method
Preheat the oven to 425 degrees.
Unroll puff pastry and line an ungreased cookie sheet.
Mix a pinch of salt and the thyme into goat cheese.
Spread the cheese on the puff pastry leaving a ½ inch crust on all four sides and alternate fig halves and tomato halves on top of the cheese.
Brush the ½ inch crust with the egg white and drizzle the rest of the tart with olive oil.
Bake for 25 minutes or until the tomatoes are blistered and the crust, golden brown.
Ohh and Ahh over the beauty that is this tart. Pour yourself a glass of Diamond Collection Pinot Noir and enjoy!
Playlist
1. French Navy - Camera Obscura
2. It'll be better - Francis and the Lights
3. Pain - The Texas Gentlemen
4. The Old Churchyard - Offa Rex
5. I don't love anyone - Belle and Sebastian
6. Delta Dawn - Tanya Tucker
7. New York - St. Vincent
8. Witness - Benjamin Booker
9. Hollow Life - Coast Modern
10. We Can Work It Out - Stevie Wonder