As many of you know, every Sunday evening, Anthony Bourdain hosts his beloved, globetrotting and food-savvy CNN show, Parts Unknown. In case you missed the final episode of the season, the host visited Southern Italy, what he calls the "Heel of the Boot." Dropping into the beautiful coastal regions of Basilicata where hills, mountains, valleys and sea mix and mingle, we land among sun-dappled landscapes, small towns with colorful Italian locals, and ancient Matera (known for its Sassi district) and cave dwellings cut from rock. Like all good travel stories, there's also plenty to eat: seafood (think sea urchin), delectable meats and homemade pastas.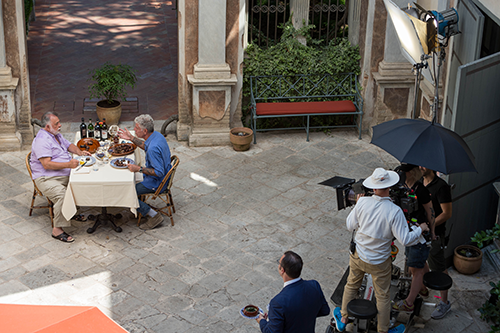 To kick things off, Bourdain makes his way to visit the hilly ancestral town of Bernalda, a remote region of forests, mountain ranges and the ancestral home of Francis Ford Coppola's grandfather, Agostino—who lovingly referred to it as "Bernalda bella." Just inside the leafy courtyard of Palazzo Margherita, the family's boutique hotel, the two men share stories over what the Coppola family knows best— local food, wine and family history. Meanwhile, chef Tommaso Lacanfora's five-course lunch features traditional, authentic and minimalist delights like pecora pastorale (mutton and herbs), lampascioni (with fried hyacinth bulbs) and contenne, a serving of stuffed pig skin rolls, that Coppola once ate as a child (and disliked) and, many years later, now loves. To drink, Coppola, the self-proclaimed "accidental" winemaker, serves local red Primitivo and Aglianico del Vulture DOC wine and liquor.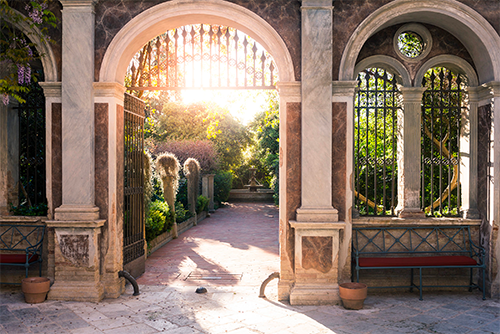 Palazzo Margherita descended from the family of Giuseppe Margherita (also known as the house of the "Podestà"), a palace that once hosted the fascist authority. Luckily, times have changed. As the meal concludes, there's also a cameo by Francis' young granddaughter, Pascale Coppola.
The remainder of this striking episode is a sprawl of vignettes, a seafood picnic with the Italian actress Asia Argento, a look into the origins of the Tarantella dance (a folkloric series of fast moves using tambourines) and the South's lesser-known Pagan roots. Fadeout: the show closes with Godfather theme song and perhaps most telling is Coppola's own advice: "In the end, do what you love, that's the secret of life." True, it's the final chapter of all good stories.
Want to live the episode? Book your stay at the dreamy 9-room Palazzo Margherita (personally designed by the Coppola family and French designer Jacques Grange). And, to follow in the adventurous, culinary footsteps of Bourdain, we recommend visiting the delicious outtakes here.