Friendsgiving is one of the best holidays around. Yes, I said Friendsgiving, not Thanksgiving. A day of indulging in your favorite foods and beverages with some of your favorite people. This year, we had a friendsgiving at the office and it did not disappoint. Paired with some of our favorite wines, we had an absolute blast.
One of the best perks of a friendsgiving is that each person brings one of their favorite dishes, which means that no one person has to burden a large amount of work and everyone can enjoy themselves.
A pro tip for Friendsgiving – save the china for Thanksgiving and go with some festive paperware, it's a saving grace at the end of the night when you are just ready to relax and there are some really great sustainable options on the market.
Another tip to make it memorable? An epic playlist. We're not going to give you one – we suggest asking your friends ahead of time for some of their favorite tunes and putting them together on one big playlist. You can share it out with everyone after the fact and it will always remind them of your Friendsgiving!
And last but never least – wine. You're going to need to provide a variety of wine to pair with each dish. Or ask your guests to bring a bottle that pairs well with their dish. There are so many to try here.
The variety of options at Friendsgiving is always fun because it tends to buck tradition a bit. At our Friendsgiving, we had two kinds of stuffing, a green salad studded with pomegranates and walnuts, turkey meatballs, brie pull apart bread, Scungilli salad, Persimmon pudding and Pumpkin pie. You'll find some of these recipes below.
Happy Friendsgiving!
Scungilli Salad
Ingredients
Juice of 4 Lemons
4 cloves of Garlic
½ C. Olive Oil
1 Stalk Celery, Sliced
¼ C. Roasted Red Pepper
¼ C. Pepporoncini
32 oz Canned Scungilli/Conch, Sliced
1 lb medium Shrimp, cleaned and boiled
Boiled Calamari/Steamed Muscles, optional
Method
In a large bowl, toss all ingredients. Refrigerate for 24 hours and enjoy!
Thanksgiving Meatballs
These meatballs are a fun play on Turkey and cranberries, employing the two as the main ingredients. Enjoy these light meatballs as an appetizer or main course. Served with a tangy orange and dill yoghurt sauce, it's an easy way to put turkey on the table without roasting one all day long!
Ingredients
1 lb. Ground Turkey
1 C. Fresh Cranberries
2 Small Sweet Onions, sliced
2 Tbsp .Rosemary, chopped
1 Tbsp. Rubbed Sage
1 Tbsp. Thyme
2 Eggs
½ C. Goat Cheese
1 C. Breadcrumbs
Olive oil to cook
Salt to taste
Juice of one Orange
2 Tbsp. Dill
½ C. Yoghurt
Method
In a small pan, heat about 1 Tbsp. of olive oil, add onions and cook until translucent, about 3-4 minutes.
Add cranberries and herbs (rosemary, thyme and sage) to the onions and cook on medium heat until the cranberries soften.
To the cranberries, add the goat cheese and cook until fully incorporated. Let cool.
Preheat oven to 350.
In a large bowl, mix the ground turkey, eggs and breadcrumbs.
To the turkey mixture, add the cranberry mixture and mix until fully incorporated.
Form 2 inch balls and place an inch apart on an ungreased baking sheet. Bake for 25 minutes.
While meatballs are baking, make your sauce – combine orange juice, yoghurt and dill. Set Aside.
When ready (should be internal temp of 170), remove meatballs and drizzle with yoghurt sauce. Serve immediately.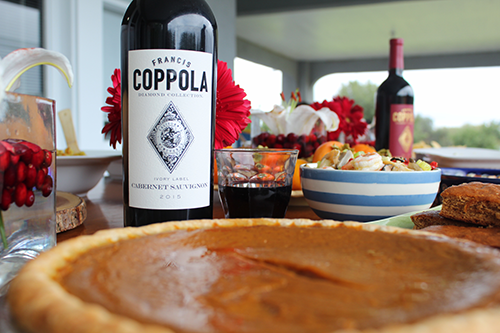 Oma's Pumpkin Soup
"This is a verbally handed down recipe from my Dutch mother-in-law, Oma (Grandma) Mattie. She used to prepare it for our family on cold and wet days in Amsterdam. Now back in the States I like to prepare it on those chilly days that remind me of the Fall in our beloved little country in Europe, the Netherlands."
Ingredients
1 medium pumpkin
2 leeks
2 tbsp butter
1 tbsp curry powder
1 bottle dry white wine (I used Diamond Sauvignon Blanc)
Chicken Stock, roughly 3 cups
Whipping cream, to taste, roughly 1/3 cup
Salt & Pepper, to taste
Method
Remove seeds from pumpkin and cut into 1 inch cubes
Slice the white and light green parts of the leeks into ¼ slices. Melt the butter in a large pot over medium heat. Add the leeks and stir often until softened, about 5 minutes. Add curry powder and stir until fragrant. Add the pumpkin cubes. Add equal parts white wine and chicken stock until pumpkin and leeks are nearly covered. Simmer covered until pumpkin is tender, about 40 minutes. Using a hand blender (or work in batches with a blender) puree until smooth. Stir in salt, pepper and whipping cream to taste. Soup should be a rich and creamy consistency, so if too thin allow soup to simmer for a while. At the end I sometimes I add in a splash or two of brandy to give it an extra little kick.
Persimmon Pudding Cake
"Persimmons are now one of my favorite fruits. But things didn't start out so well
Persimmon is one of the new fruits and vegetables I tried when I moved from the Midwest to California in the 80's. At the time, there wasn't much food variety in Chicago area grocery stores, so after discovering artichokes, pomegranate, and romaine lettuce (yep, only iceberg lettuce before), I tried a persimmon. It was an Hachiya Persimmon, which I later learned must have been unripe, and it tasted like I was chewing on a sock. No taste of anything offering the promise of future ripeness. Did I try the wrong varietal? Should I try another? Nope, not risking that again.
A few years ago a new neighbor brought over five Fuyu persimmons from her tree, telling me about her family's secret Persimmon Pudding recipe. I just nodded and thanked her, wondered how much fixing that recipe must need and put the lovely fruit in a bowl on the dining table. Persimmon ripens nicely, just sitting there on your counter. I decided to find a recipe – this recipe by Lily Ernst, was the first to open my mind to persimmon. (I made some edits to original recipe)"
Ingredients
2 Cups Fuyu persimmon pulp (about 5 persimmons)
2 Cups, All Purpose Flour, sifted
3/4 Tbsp baking powder
½ Tsp. salt
1 Tsp. ground cinnamon
4 Tbsp. melted unsalted butter
2 large eggs
1 Cup white sugar
1 Cup brown sugar, lightly packed
1 Tsp. vanilla extract
Whipped cream or ice cream topping
Chopped walnuts – optional
Method
Pre-heat oven to 350 F and grease 13 x 9-inch glass baking dish.
Using a hand-held blender, break up the persimmon pulp and seed casings to get about 2 cups of pulp. Careful not to over puree.
In a large bowl, combine flour, baking powder, salt and cinnamon.
To the bowl with fruit pulp, add butter, eggs, sugars, and vanilla and whisk all together. Slowly add to the dry ingredients and mix until just combined.
Option: gently fold chopped walnuts into batter.
Pour batter into a pan, and bake for 45 -55 minutes, until toothpick comes out clean. Careful not to overbake.
Let cool slightly and top with ice cream or whipped cream.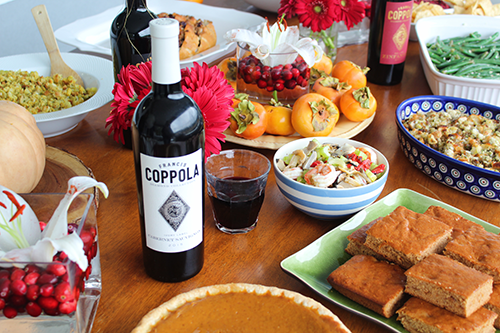 Sausage Stuffing (as found on About.com years ago)
Ingredients
1 lb Sage Breakfast sausage
½ Cup of butter
2 Cups chopped onion
2 Cups chopped celery
10 Cups cubed French bread
1 Tablespoon poultry seasoning
1 Tablespoon finely chopped fresh sage
2 Tablespoons finely chopped parsley
1 Teaspoon salt
Dash freshly ground black pepper
1 and ¾ Cups chicken broth
Method
Lightly butter a 9x13-inch baking dish. Heat oven to 350 degrees.
In a large skillet over medium heat, cook the sausage, breaking up and stirring frequently, until sausage is no longer pink. Remove to paper towels to drain. Wipe out the skillet and melt the butter over medium-low heat. Add the onion and celery and cook, stirring, until the veggies are softened, about 5-7 minutes.
In a large mixing bowl, toss the bread cubes with the herbs and seasonings. Add the vegetables with the butter and the drained sausage. Stir in chicken broth until well moistened, but not mushy. Pack gently into the prepared baking dish and cover tightly with foil. Bake for 25 minutes