From California valleys to the blue alpine lakes of Montana, the golden fall foliage of Vermont and the storied rock n' roll roots of Tennessee, we're constantly inspired by America's spectacular landscapes. Throw together your favorite playlist, gas up the car and soak in the views. The open road awaits; tote along your favorite camera, some binoculars and pair your adventure with Francis Ford Coppola Winery's Storyteller Series.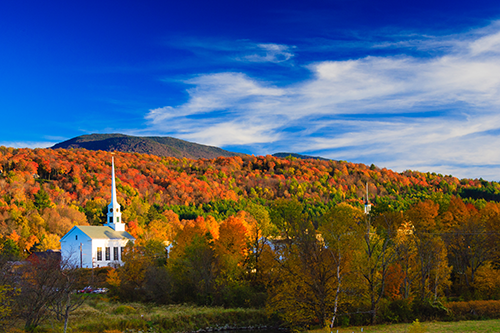 Route 100, Vermont
Beloved for its kaleidoscopic leaves and delicious maple syrup, Vermont's verdant Green Mountains provide ample winding country roads. For hiking, stop by Gifford Woods State Park, veer past farm stands and idle around charming towns from Wilmington to Stowe. For rolling hills, Stowe Recreation Path is ideal for biking and late fall picnics. In Weston, drop by the beloved Vermont Country Store with a sprawl of market goods, old-fashioned fudge and warm coffee.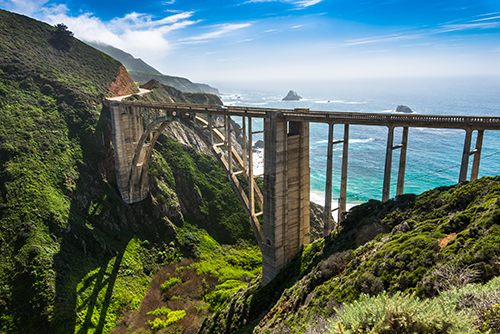 Route 1, California
Start this fabled road in San Francisco as you head 400-miles south to Los Angeles. En route, a narrow road to Big Sur appears, marked by the grand Bixby Bridge (one of the tallest concrete bridges in the world). Below sits the prized, craggy coastline of rugged bluffs and sweeping Pacific Ocean vistas with sea otters and migrating whales. Pfeiffer Beach is home to purple sand and spectacular sunsets. In Los Angeles, dial in some downtown culture—the Frank Gehry-designed Walt Disney Concert Hall and the newest kid on the block, the Institute of Contemporary Art have you covered.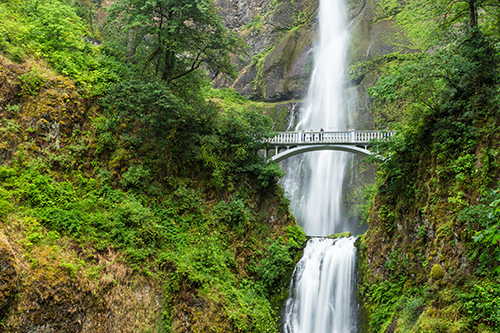 Columbia River Scenic Highway, Oregon
East of Portland, cruise along one of the USA's first scenic roads dotted with towering waterfalls, big-leaf maple, ash, cottonwood and native Douglas Fir trees, while taking in the best sights of the Columbia Gorge. You can't miss the 611-foot-tall Multnomah waterfall (you can also hike the paved path) or alternatively, Vista House serves as a memorial to Oregon Trail pioneers and offers unrivaled 300 mile views.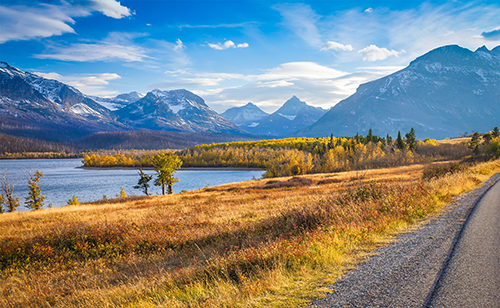 Going-to-the-Sun Road, Montana
Before winter (and deep snow) sets in, drive across Montana's Glacier National Park, the only road that traverses the park crossing the mountainous Continental Divide. Along this stunning 50-mile stretch, there's ample twisting and turning with unobstructed, panoramic views as far as the eye can see. Perched atop the highest point of Logan Pass, find endless Instagram-worthy sights ranging from wild mountain goats to pristine snowcapped glaciers.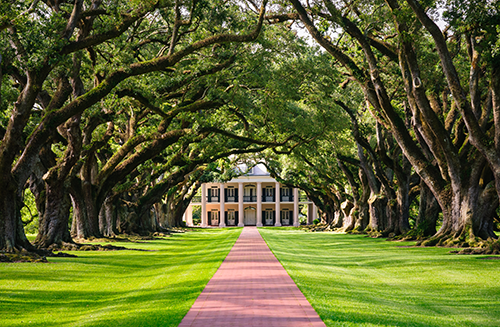 Great River Road, Memphis to New Orleans
Along Highway 61 and passing through ten states along the lower Mississippi River, the Great River Road lets you idle past stately plantation homes, endless roadside eats and local festivals. For some kitschy rock n' roll history, don't miss Elvis Presley's famed mansion, Graceland and in the Big Easy, stroll the gorgeous Greek Revival Garden District homes. Later, check out the latest in New Orleans Jazz at Preservation Hall.