I'm a big believer that all summer adventures should include dessert. There are certain desserts that just seem to make sense in summer and not at any other time of the year. Desserts that scream to be eaten outside only. Desserts that are designed to make a happy mess. Berry hand pies perfectly fit these criteria. Not only can you bring these bad boys with you everywhere, but one is never enough. They are full of fruit, so you could probably swing making these a delightfully decadent breakfast on a vacation day during the summer too. The beauty of these is that you can truly make them your own. My favorite pairing is blackberry and strawberry - you get the tang from the blackberries and that oh-so-fresh sweetness from the strawberry. But go ahead and use blueberries, raspberries, even stone fruit - peaches, plums, whatever tickles your fancy. I suggest pairing these with a chilled can of wine and your favorite, well-worn summer read.
Ingredients
1 qt. Blackberries
1 qt. Strawberries, quartered
2/3 c. White Sugar, plus extra for sugaring tops
Pinch of salt
2 Tbsp. Cornstarch
1 Tsp. Vanilla
Juice & Zest of One Lemon
4 pre-rolled pie crusts, defrosted (listen, make them if you want to, but is that really how you want to spend your summer days?)
1 egg, whisked for a wash
Method
Preheat your oven to 350 degrees.
In a large bowl, combine your berries, sugar, cornstarch, lemon juice and zest, salt, and vanilla. Let sit for 20 minutes.
While your berries are marinating, unroll your pie crusts. (With 4 pie crusts, you should be looking at about 12 pies.)
Using a small bowl as a guide (mine was 6 inches in diameter) cut out 3 circles from each pie crust. You may have to re-roll the dough for the last one.
When your berries are done, spoon about 2 spoonfuls of berries onto one side of each crust circle.
Close each circle by covering the berries with the other half of the crust and use a fork on the edges to ensure the berries are in tight.
Use the egg wash to brush the top of each pie.
Sprinkle each pie with a bit of sugar.
Cut three lines into the top of each pie with a paring knife to ensure the pies don't explode in the oven.
On an unlined baking tray, bake your pies, about an inch apart, for 25 minutes or until golden brown.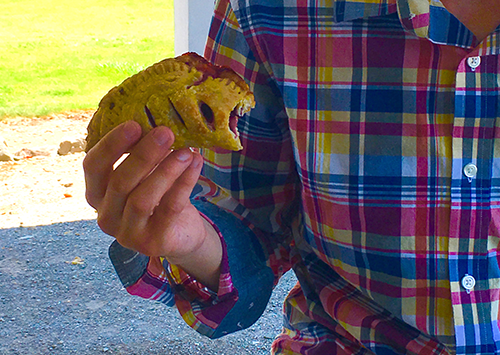 Playlist
Dream a Little Dream of Me - The Mamas and The Papas
The Other End of the Telescope - Elvis Costello & The Attractions
Mama Said - The Shirelles
Paradise - The Grateful Dead=
No Matter Where We Go - Whitney
Making Pies – Patty Griffin
What's in it for? – Avi Buffalo
The Promise – Sturgill Simpson