It's that time of year again. The most wonderful time of year! And with the most wonderful time of year comes the most wonderful amount of parties, entertaining and noshing. The three apps below are easy enough to make for a weeknight soiree, fancy enough to impress a Saturday night crowd, and are of course, fantastically delicious. Homemade crackers are sure to implore a bevy of "oohs and ahhs" and the kale dip is a new twist on the beloved spinach favorite. The patience it takes to caramelize the onions for the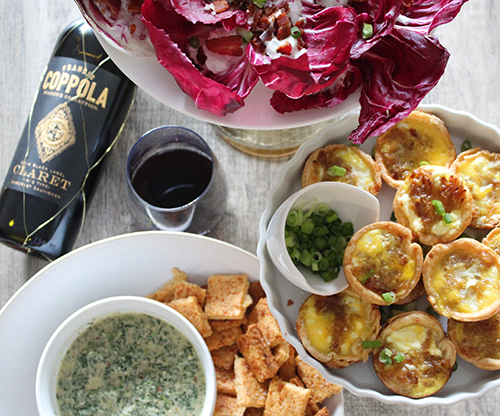 mini quiche is well worth it for the sweet, salty and tangy end result. And the radicchio wedges are a fun new take on the steakhouse fave. The radicchio adds a much needed spiciness to the lushness of the blue cheese and bacon.
These are all made even better with the addition of our Diamond Collection Claret – a beautifully netted bottle that is fit for a gift on its own or presented to a host with one of these bites.
Parmesan Crackers with Kale Dip
Parmesan Crackers
1 C. shredded parmesan cheese
4 Tbsp. butter, in small cubes
1 Tsp. oregano
1 Tsp. smoked paprika
6 Tbsp. heavy cream
1 C. flour
sea salt
Kale Dip
4 C. baby kale (you can use regular kale, but need to make sure it's deveined first)
½ C. shredded parmesan cheese
4 cloves garlic, minced
2 Tbsp. olive oil
¼ C. half and half
Method
Parmesan Crackers
Pour yourself a glass of wine – it is the holidays after all!
Preheat oven to 375 degrees and line a baking sheet with parchment paper (trust me, this allows for easiest cleanup)
In a blender or food processor, pulse the butter and parmesan until combined and crumbled.
Add your spices, ½ C. of flour and all of your cream and pulse until combined.
Slowly add the rest of your flour until a smooth dough forms.
Move dough from processor to a floured surface and knead for about 3 minutes or until the dough comes together in a smooth ball.
Roll out to about ¼ in thick and move carefully to your prepared baking sheet.
Sprinkle with coarse salt and score lengthwise and widthwise to create a sheet of 1 inch squares.
Bake for 16 minutes or until golden brown.
Remove from pan and carefully break crackers apart.
Kale Dip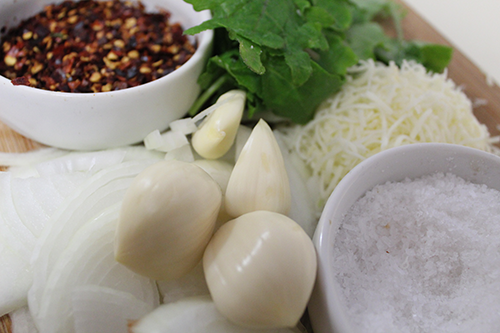 In a medium sized pan over medium high heat, heat olive oil.
Add garlic and cook until softened.
Add kale to garlic and cook until completely wilted (about 1 minute).
Add half and half to the mixture and bring to a simmer.
Add parmesan to the simmer and stir until completely melted.
Add salt to taste.
Mini Caramelized Onion Quiche
Ingredients
1 raw pie crust, cut into 3 inch circles (makes about 12)
4 eggs, beaten
½ C. goat cheese crumbles
2 sweet onions, thinly sliced
2 Tbsp. butter
3 green onions, thinly sliced
Method
Preheat oven to 350 degrees. Pour yourself a glass of wine.
In a medium sized pan, melt your butter.
Once your butter is melted, turn your heat down to medium low and add onions and a healthy sprinkle of salt. You are about to start a long caramelization process. This will take about 35 minutes, a lot of patience and about 8 stirs in total. The idea is for the onions to shrink and brown without burning. Check in on them every 5 minutes and give them a stir until the house smells incredible and the onions look like the below:
While your onions are caramelizing, carefully insert your "pie circles" into small muffin tin cups. Bake for 7 minutes and remove.
To each crust add about a pinch of goat cheese, a pinch of caramelized onions and 1 Tbsp of egg.
Place back in oven and cook for 12 minutes or until eggs are fully set.
Sprinkle with green onion and enjoy.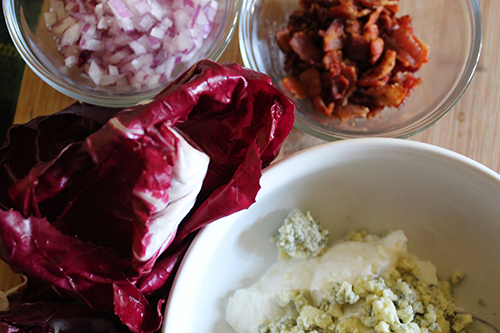 Radicchio "Wedges"
Ingredients
1 head of radicchio, leaves removed
½ C. blue cheese crumbles
2 Tbsp. apple cider vinegar
½ C. greek yogurt
5 slices of bacon, cooked and crumbled
½ red onion, minced
Method
In a small bowl, mix together blue cheese, vinegar and yogurt
On a large platter, arrange radicchio leaves.
To each leaf, add a spoonful of the yogurt mix, a pinch of onion and a pinch of bacon.
Wasn't that easy? Where's the wine?