Sometimes the holiday season feels overwhelming in the best way possible. Merry and bright and full of parties and presents and families. It also feels like there is always a need to bring something to someone or somewhere. The salt scrub can be modified to include the aromatics that you or the recipient prefer -this one with lavender and rose remind me of relaxing tea in an English garden, but orange peel, anise, anything you want works! And these truffles are absolutely delicious, extremely impressive and super easy to make. These little treats below make great hostess gifts when paired with our new Diamond Cans – and perhaps the first box in our quarterly new Books and Bottles Book Club?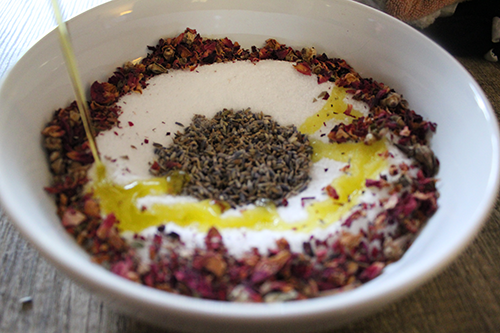 Salt Scrub
Ingredients
Note: Some DIY salt scrubs call for the use of essential oils; I prefer the scent of the dried flowers and olive oil as I feel it smells less "fake."

- 2 C. coarse Kosher salt
- ½ C. olive oil
- ¼ C. dried rose petals
- ¼ C. dried lavender
Method
Mix all ingredients together until fully incorporated
Fill the vessel of your choice – I used a mason jar with a chalkboard label. But you can add a ribbon, or even a candy cane to make it feel more festive!
Chocolate Truffles
Ingredients
- 4 oz. bittersweet chocolate
- 4 oz. semi sweet chocolate
- ½ C. heavy cream, room temperature
- ½ C. cocoa powder
- ½ C. crushed candy Canes
Method
Over medium heat, slowly melt the two types of chocolate together.
Remove chocolate from heat and slowly mix the room temperature heavy cream into the melted chocolate, forming a ganache.
When the chocolate and cream are fully incorporated, refrigerate for two hours.
To make the truffles, scoop about a tablespoon of chocolate from the refrigerated chocolate. In the palm of your hand, roll the scoop into a ball and roll through either the crushed candy canes or cocoa powder.
Repeat until all chocolate is gone – makes about 12 truffles.