Bridget Sprague has bright, inquisitive blue eyes, an infectious smile, and an easy laugh that stands in contrast to her serious and focused nature. In conversation, she listens in a way that feels significant and purposeful, as if she is carefully absorbing each word and thoughtfully considering it. Her years spent in the brand strategy trenches have given her the gift of skilled listening, a dying art in our culture.
Bridget is well-known for the brilliant strategy work of her company, Be Good Branding, in the area of social and sustainability entrepreneurship. She helps small businesses tweak, refine, fix, and then soar their message, their audience, even their packaging. And while her client work is commendable, her own entrepreneurial spirit has garnered a reputation in and of itself. She and her husband, Billy, are the founders of Sad Lumberjack, a passion project turned company that makes skateboards out of reclaimed wood. Most recently, Bridget turned her attention to her truest passion: leading those who yearn for something bigger/better/more (but don't know what comes next or how to get there) through a process that's equal parts behavioral science, I/O psychology, and business strategy. What emerges at the end of the process is called a Hell Yeah Project, and Bridget's goal is to have launched a million of them as her legacy.
Q: Tell me about yourself - what was it like growing up for you and what's it like now?
A: I was brought up in Attleboro, MA. My dad is a controls engineer and my mother was a teacher and administrator, so it was a pretty solidly middle-class upbringing. I grew up thinking that the independence that came with a certain kind of income was really, really important. As a kid, I was often told I was creative, but I didn't understand why they thought I was creative. I didn't draw, I wore clothes that everyone else wore, I wasn't wildly artistic. In the end, it was their perception that I thought differently from everyone in my family that was the first way my creativity exhibited itself.
Today, I live in a quaint village in southern Maine with my three kids and my awesome husband, who is a gym teacher. We have a classic New England bungalow that we're fixing up bit by bit, a bulldog puppy named Ruby, and an adventure planned for almost every free weekend.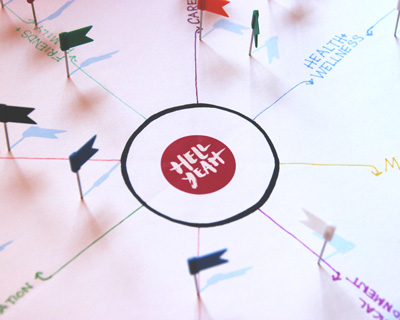 Q: Before Hell Yeah Projects, before Be Good Branding, what propelled you into brand strategy?
A: If you can believe it, it was purple walls. I didn't know what I wanted to do in college. I think I would have wanted to be a photographer, but that wasn't really an option in my household. So I majored in business instead. I double majored in economics – which, looking back, seems close to how I think about strategy – big picture thinking – drawing links between cause and effects… I interned at a few different places – Merrill Lynch, the town planner's office, and finally, with an advertising agency in Rhode Island. I walked in, saw purple walls - and somehow, I knew that was where I fit. Purple walls meant they could think outside of the box.
After college, I worked at Mullen Advertising and I loved every project that involved brand strategy. I loved hearing people's thoughts/ideas/stories in focus groups. I loved looking at data and watching people connect these threads between all aspects of our project and then turn them into creative ideas. The process was incredibly exciting to me.
Q: You went from working at well-established agencies to striking out on your own so that you could work with small, sustainability-minded businesses and entrepreneurs. Why did you feel compelled to leave the relative safety of a full time job with benefits?
A: Long story short, I had kids and it changed me. Becoming a mother forced me to look at how I was spending my time. I didn't want to spend my time working on projects selling diamonds and SUVs anymore. I wanted to be a role model for my kids. Live a life that was true to who I was and what I value. Because that is what I want for them.
Q: You could have chosen to focus on a range of niches - what drew you to small businesses that have a goal of doing good in the world?
A: I remember working on a major credit card account. I think we sent out over a million direct mail pieces every quarter, which just felt wrong to me. In my mind, I was aiding in the success of landfills. That seemed, and still seems, gross to me.
After a few years in that arena, I found myself more and more drawn to dreamers. I love the passion entrepreneurs have for their products. I used to work for clients who wanted our projects to be a success so they got a promotion. The entrepreneurs I work with now believe their work is making the world a better place. I love them for that, and I love being a part of it.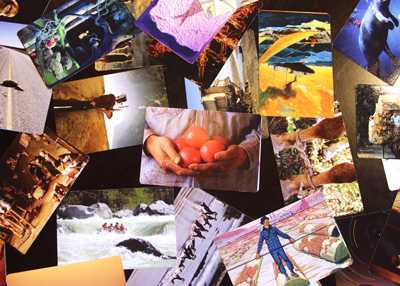 Q: Have you always felt drawn to the kind of focused passion and determination you help your clients hone?
A: I've always been drawn to passionate people who are willing to put their stake in the ground – or at least want to try. But that is incredibly hard to do. I think I'm drawn to those people because for a long time I had trouble doing it myself. I was on the track that our culture celebrates – college graduate, good job, promotions, marriage, house, kids…. But I never felt like I was on the right path. I remember enjoying flying for business because it was a time I could reflect on my career and daydream about what I was going to do next – a bed and breakfast, a photography studio…
Q: So, you settled into life running Be Good Branding, raising three kids, living in Maine - how did Hell Yeah Projects come about?
A: I was getting the itch – I had been working with entrepreneurs for 7-8 years and I wanted to do more. I typically only work with one client at a time and it was clear the strategy process was incredibly effective for these solo entrepreneurs. The thought came to me – what if I could give people who are looking for something more in their life a push towards their passions or purpose? What would that look like?
The first iteration was called the Purpose Projects, but then I met my co-founder Heidi Bellamente, who is a professional leadership coach, and together, we created the Hell Yeah Projects. In the beginning, we used ourselves as beta testers to go through the process and identify projects in our own lives. For me, one was to become vegan, which seemed totally insane to me but completely fit my values in life. So I said, "Hell yeah, I'm a vegan." And the name stuck.
Q: How is Hell Yeah Projects different from a life coaching or brand consultant model?
A: The biggest difference is that we are specifically helping participants create a project in their life. And when I say "project," it could be a creative endeavor, a new business, a focus on social good, a side hustle, a sabbatical, or a go-for-broke adventure. Our goal is to partner with business and life coaches to refer our participants to after they participate in Hell Yeah Projects retreat or workshop, creating a cohesive web to support each project as it comes to fruition.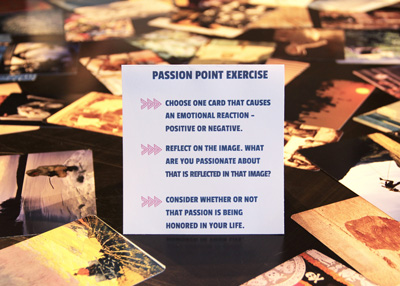 Q: How does the Hell Yeah Project process work?
A: Our retreats are an immersive experience designed to shift participants' thinking, and quite possibly change the trajectory of their lives. We take the time to purposefully examine strengths, values, and passions using a variety of exercises, reflections, and discussions. At the end, each participant will have identified their strengths, core values, and passion points. The methodology is designed to help clear away any fog that comes from uncertainty, doubt, burnout - the usual thieves of creative ideation. Once they have the road map, it's up to them to go out and travel it.
We like to host the workshops in environments that will inspire, refresh, and recharge participants, like this amazing spot we found in Maine called Tops'l Farm. It's this oasis of everything anyone could need to escape the busyness of everyday life and hit the reset button.
Q: What's the goal for the process? What do you want participants to walk away with at the end of the workshop?
A: I want participants to walk away with more focus. That's what this process does. It helps to answer all those questions swirling in our minds – like, "What's next for me?" Or, "I know this job isn't right for me but I don't know what to do next." There are so many people who have great ideas but don't know which one they should pursue. Or they don't feel fulfilled, but don't know what to do about it. We can help clear a path through all of that confusion and uncertainty.
Q: We hear so much about passion or purpose projects these days - why do you think that is?
A: I've often heard from people that they didn't want to do what "society" expects of them. For a long time, we heard this idea that we should all try to "do better than our parents." That statement drives me crazy. My parents are very successful – they did very well – but does that mean my purpose is to make more money than my parents? What if that doesn't bring me joy – what if I don't want to live to work? For me, the "American Dream" is about having the opportunity to pursue whatever path you want to pursue.
Q: Do you think there's a certain kind of person who need a project to feel fulfilled?
A: We like to say that our audience are the dreamers. The people who want a full life, to flourish, to have a life filled with laughter, adventure, friends, and family. We've also found people who are in transition, like those who recently graduated college, became a mother, quit their job, retired… and are looking for "what's next" in their life.
Q: Both in Be Good Branding and in Hell Yeah Projects, you've made it your work to help others get to the top of their own personal mountaintop - why?
A: It's my purpose AND my passion - to inspire people to live purposefully. It makes me incredibly happy. It fills my bucket. I believe happiness comes from giving to others. That's certainly been my experience.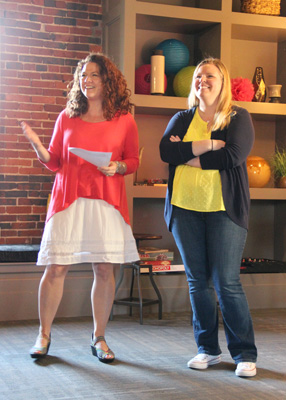 Q: What are some of your favorite Hell Yeah Projects you're seeing come to fruition?
A: We've had program participants buy their dream house, change careers to spend more time with their family, start new businesses, curate art exhibits, go on family adventures. All the projects are awesome. I love them all.
Q: What do you envision being the future of Hell Yeah Projects?
A: We have so many plans for Hell Yeah projects. We would love to start a podcast interviewing people living their Hell Yeah lives, as well as those who have an ongoing or completed Hell Yeah project. We also want to train coaches to run our workshops and retreats all over the world. We also have some big, scary dreams, like publishing a book that inspires more people to start a Hell Yeah Project by highlighting the beauty, struggle, and triumph of the projects that have been completed.
Q: Aside from Hell Yeah Projects, which is one of your passion projects, is there something else you have your eye on, a 100-year project, so to speak?
A: I think about my legacy. I think everyone should take the time to think about their legacy. How are they making their mark on the world? I would be thrilled if my obituary read, "Bridget helped launch one million Hell Yeah projects." That's the kind of legacy I want to leave behind.
Q: Considering Coppola Winery is a passion project in itself, and all of the wines have special meaning, which resonates most with you?
A: Pitagora, for sure. "This wine pays homage to those curious about the nature of how things work, and their thirst for knowledge." We love people who are curious. People willing to take a deeper look at life and do something beautiful with it. The kind of wine that celebrates those people is my kind of wine.