If there's one thing that's for certain – it's that summer is time for burgers. On the grill or in cast iron. On a picnic table or for a living room picnic. There's really no wrong way to eat a burger in the summer. And it seems like they are everywhere. So sometimes it's nice to take a break from beef or turkey or even veggie and try something a little different. Although ground lamb is harder to find than some other proteins, it's worth seeking out for it's minerally, sweet, gamy and grassy flavor. And with such great tasting meat, little is needed to be done to the actual burgers, leaving lots of fun to be had with all of the toppings (the best part of any burger, really.) We use fennel and red onion here, but feel free to top with whatever you've got in the fridge, whatever is floating your boat tonight. I like to pair this with a nice glass of red, like Diamond Collection Claret.
Ingredients
For the Burger
1 lb of ground lamb
½ onion, ground in a food processor or blender
2 hamburger buns, we prefer traditional, but get fancy with it if you'd like – Brioche never fails.
1 tsp. kosher salt
1 tsp. pepper
1 TBSP dried oregano
For the toppings/sauce
2 TBSP mayonnaise
2 cloves garlic, minced
1 TBSP fresh mint, diced
1 TBSP crumbeld feta
½ red onion, thinly sliced
1 bulb fennel, thinly sliced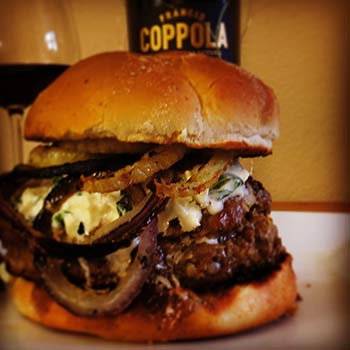 Method

Mix the lamb and ground onion in a bowl. Try to mix it with as little handling as possible to maintain the integrity of the lamb to make a light burger.
Shape the lamb and onion mixture into two patties (as shown) and season with salt, pepper and oregano on one side. Don't be shy.
Heat a cast iron pan over med/high heat.
Once pan is hot, place patties seasoning side down in the pan. Season the raw side with half of the oregano, salt and pepper. Cook for 4 minutes, flip the patties and cook for 4 more minutes or until internal temp reaches 160 degrees.
Take the patties out of the pan, place on a plate and let them rest. Replace them in the pan with the sliced fennel and onion. Add a bit of salt and cook until soft.
While onions and fennel are cooking and meat is resting, make your sauce. Combine garlic, mayo, mint and feta. Salt to taste.
Finally when patties are done, assemble! Bottom bun, pattie, sauce and veggies, top bun. Enjoy with a glass of Claret.
TIP: Why not ask your dining partner a question to get the evening conversation started – "What's your idea of sheer Happiness?" I might answer you – this lamb burger!
Lamb Burger Playlist
The Mother We Share – CHVRCHES
All I need – Foxes
Cecilia – Simon & Garfunkel
Rose Colored Boy – Paramore
Baby Britain – Elliot Smith
Black Coffee in Bed – Squeeze
Sweet Jane – The Velvet Underground
Million Dollar Secret – Lucius
This is the Day – The The