The Family Coppola Hideaways' Blancaneaux Lodge in Belize is excited to offer a truly unique dining experience where guests can partake in a "convivial dinner" offered twice weekly in the property's organic garden. The experience starts with cocktails offered upon arrival. Guests can sip and savor as they tour the garden and learn about the organic farming practices used to harvest the unique produce that grows here in abundance. Gathering at a communal table located on the open-air porch of the organic garden's new thatched roof kitchen, they will then dine on a three-course meal, all inspired by ingredients picked fresh that day from the garden. From soups and salads to pastas and shrimp dishes (see sample recipe below). The only decision to make is what wine they will share with new friends!
The Organic Garden at Blancaneaux Lodge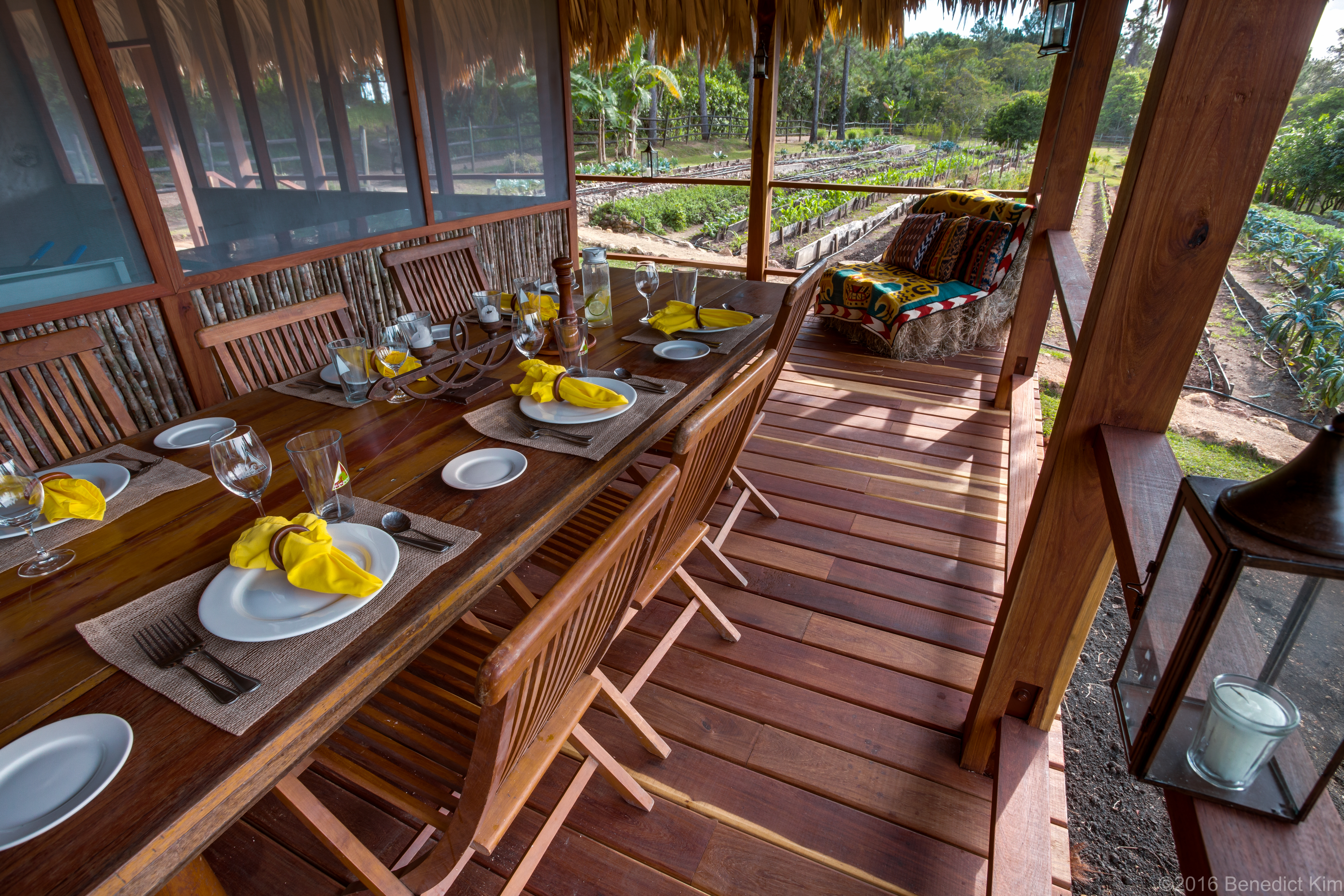 Francis and Eleanor Coppola believe that fresh, flavorful ingredients are of utmost importance: "We want to offer our guests the best there is, and by growing it ourselves we can guarantee the quality," says Francis. "Besides, what's a good brick oven pizza without fresh basil?"
At Blancaneaux Lodge the produce is truly local. The gardening staff grows all the organic vegetables and many of the fruits used at the lodge including a variety of herbs, six different types of lettuce, Brussel sprouts, broccoli, asparagus, cauliflower, string beans, tomatoes, cabbage, eggplant, zucchini, radishes, beets, celery, sweet peppers, sweet corn, limes, oranges, grapefruits and tangerines. The gardener and chef consult daily on what is available for the day's menu and what will soon be ready to make an appearance. The year-round growing season and careful crop rotation means there are always fresh tomatoes for salads, sandwiches, pizzas, and pastas.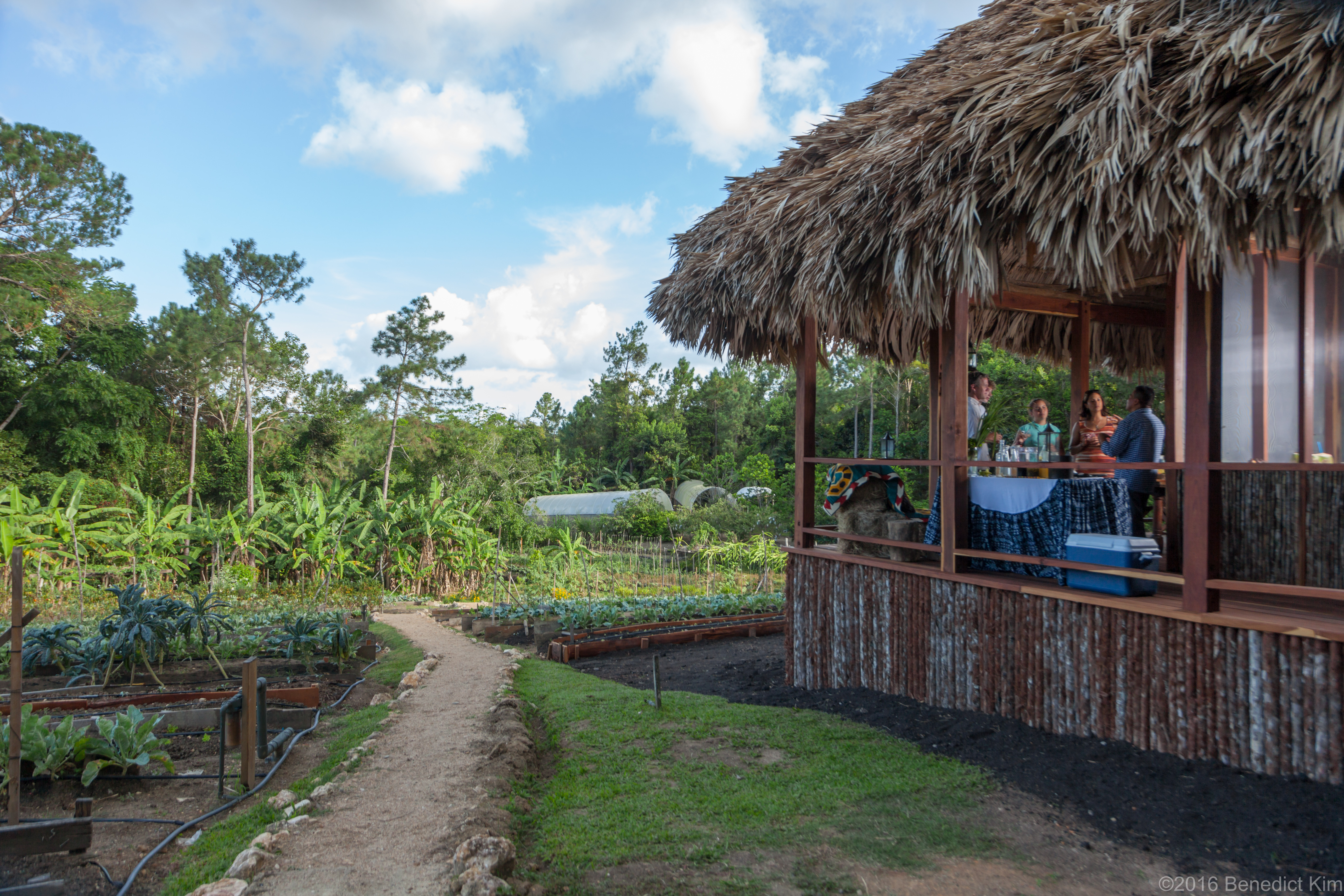 Recipe: Asian style Stir Fry with Orange, Ginger & Cashews
This recipe was developed at the request of Francis Coppola who thought it would be a good addition to the convivial dinner menu. Even though the flavor is Asian, the ingredients are almost all local. It can be served with chicken (pictured above) or shrimp or it can be made completely vegetarian, with the addition of cooked black beans and/or tofu and served with either brown rice or rice noodles and top with cashews (which are also local to Belize). When making a stir fry, an extremely hot wok and the order in which the ingredients are cooked makes all the difference. The addition of orange juice with cornstarch thickens it and makes it shiny. Spice can be added in the form of finely chopped hot peppers or hot sauce.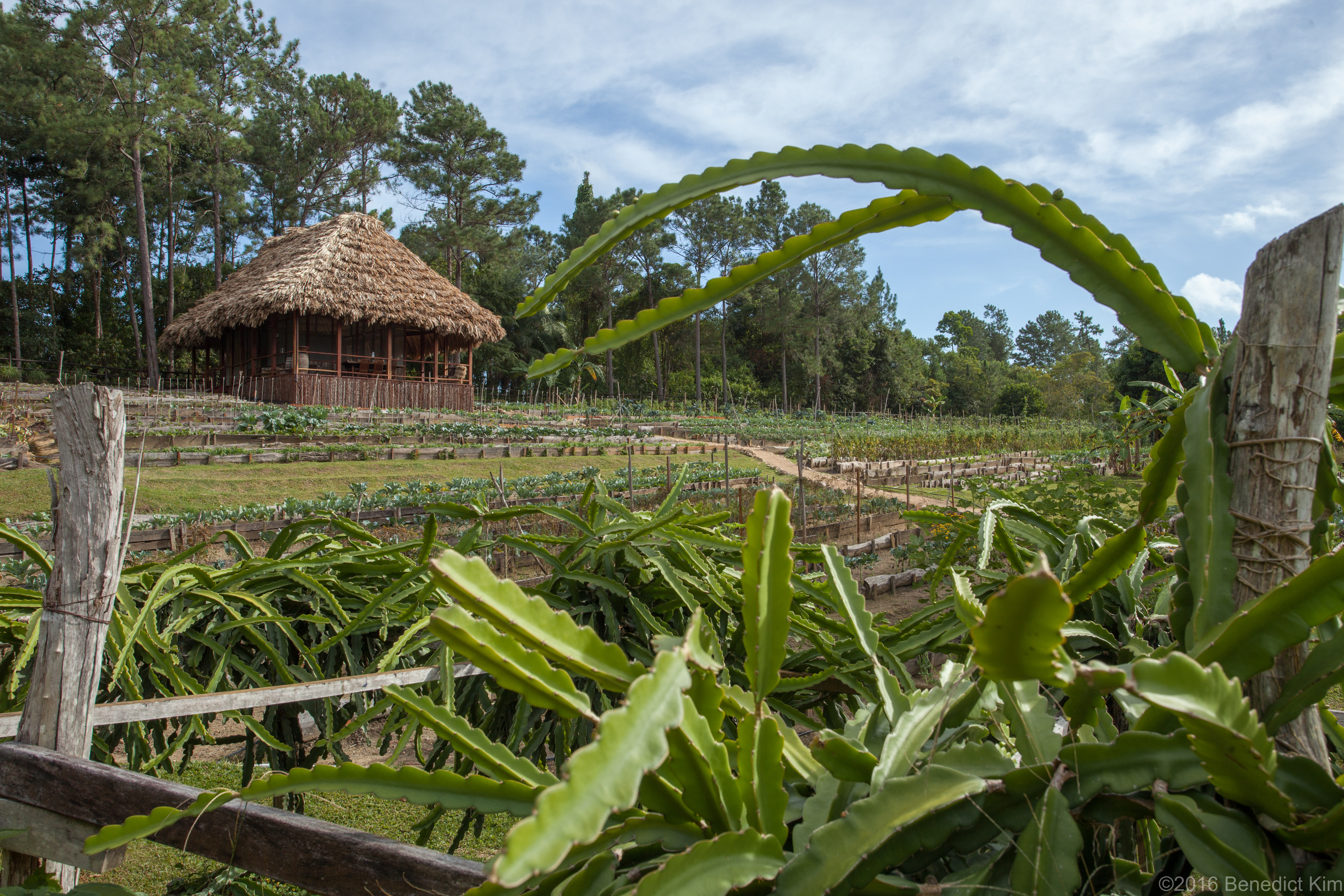 Ingredients: (for 1 portion)
-1 Tbsp sesame/veg oil mixed 1 to 5
-4 ounces of chicken *optional
-1 pinch of salt
-2 ounces of sliced red onion
-1 Tbsp finely minced garlic
-1 tsp hot pepper *optional
-1 tsp minced fresh ginger
-2 ounces carrot (sliced on a bias)
-2 ounces of green beans, trimmed
-2 ounces of sweet pepper, any color
-1 cup of loosely packed kale, stems removed and cut in 1 inch pieces OR
-1 cup of Chinese cabbage, chopped
-1 tsp rice wine vinegar (or lime juice)
-1 tsp. Kikoman soya sauce
-1/4 Cup of fresh orange juice with cornstarch dissolved in it **
-1 Tbsp. chopped cilantro
-1 Tbsp. scallion or green onion, sliced on a bias
-1 Tbsp of chopped Vietnamese herb mix (equal parts mint, cilantro and lemon basil)
-2 Tbsp. cashews, toasted and coarsely chopped or 1 Tbsp. sesame seeds
-1 Tbsp. freshly chopped cilantro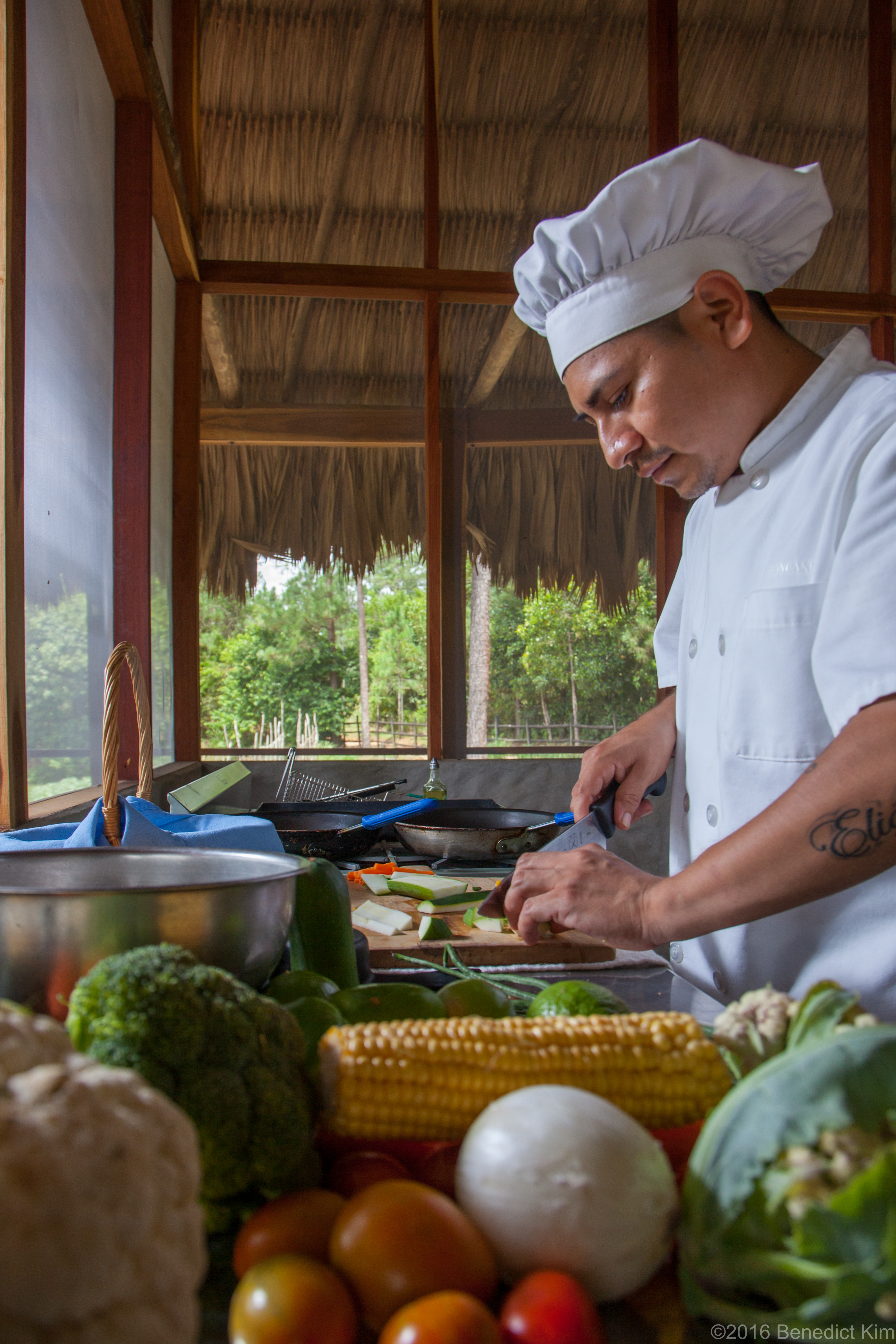 Method:
-Heat your Wok, add the oil mixture and wait until it is smoking hot
-Add the ingredients one by one in the order listed above. You need to pay attention to the ingredients in the pan to ensure you don't end up with too much oil, they cook properly, that the onions and garlic don't brown, that the carrots and the green beans are cooked but still crispy, that the balance of seasoning (salt) and acidity (rice wine vinegar) is correct and not overwhelming. There should be enough sauce to properly coat rice noodles and taste fresh from the orange juice ginger and all the herbs. Cilantro can cook a little more, but the Vietnamese herb mix must be added right at the end. If serving with rice noodles toss them in with the herbs so that they are coated in sauce and then place them with tongs in the bottom of the bowl with the vegetables on top. The whole cooking process should take no more than 8 minutes. Serve immediately, don't let the stir fry sit around.
** 2 cups orange juice with 3 Tbsp dissolved in it
Make your reservation today by calling toll-free (844) 773-9574 or visit www.thefamilycoppolahideaways.com or info@thefamilycoppolahideaways.com