Happy New Year! I hope everyone had a wonderful holiday season full of good company, good food, good wine, and of course, plenty of adventures. To compensate for some of the overindulgence we all engage in over the festivities of the season, I thought I might bring to you today some salads (well, salad-like foods) that incorporate ingredients said to bring luck in the New Year. First, a Kale Salad given a tart crunch by arils from seasonal pomegranates, which represent prosperity; a cold noodle salad with long buckwheat noodles, symbolizing a long life; and of course, a version of my favorite weeknight dinner, warm Provencal Lentils – subbing black eyed peas for the lentils to symbolize luck and prosperity throughout the year. All of these kinda, sorta healthy salads go perfectly with our Diamond Collection Sauvignon Blanc.
Kale Salad

Ingredients
1 Bundle of Lacintano Kale, stemmed and shredded
¼ Cup of Walnuts, crumbled
¼ Cup Crumbled Feta
Arils of one Pomegranate
1 Bunch of Dill, chopped
2 Tablespoons Tahini
Juice of one Meyer Lemon
1 Tsp. Cumin
1 Tsp. Sugar
¼ Tsp. Salt
1 Tbsp. Olive Oil
Method
In a small bowl, whisk together olive oil, salt, sugar, lemon juice, tahini, cumin and dill.
In a large bowl, combine kale, walnuts, feta and pomegranate arils.
Pour the dressing over the kale mixture and toss.
Smashed Cucumbers and Noodles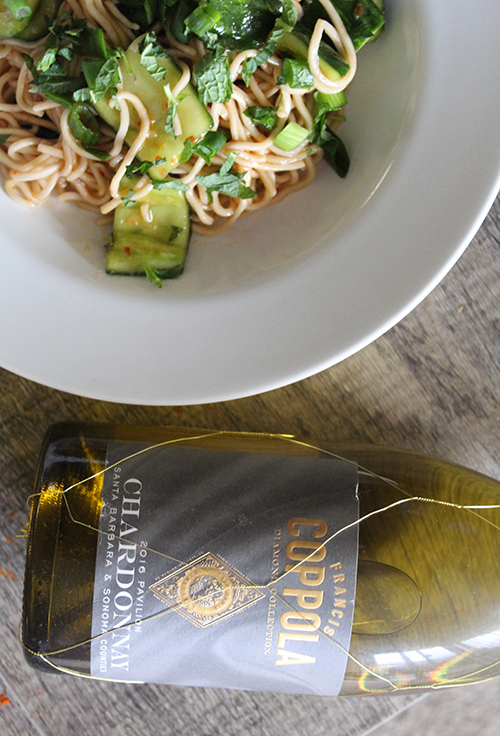 Ingredients
6 Pickling Cucumbers
3 Tbsp. Sesame Oil
3 Tbsp. Soy Sauce
2 Cloves Garlic, minced
2 Tbsp. Sambal Olek
1 Tbsp. Mirin Vinegar
2 Tbsp. Sugar
2 Bundles Buckwheat Noodles
2 Scallions, sliced
Handful of Mint, julienned
Method
Cut the ends off each cucumber and slice in half vertically. Scoop the interior of the cucumbers out and slice into ½ slices.
Place your cucumber slices in a colander in the sink and toss with 1 Tbsp. Salt and 1 Tbsp Sugar. Let them drain for 30 minutes.
In the meantime, in a large mixing bowl, combine 1 Tbsp. Sugar, vinegar, sesame oil, soy sauce, sambal olek, garlic, scallions and mint. Let sit.
Prepare the buckwheat noodles per the package instructions, rinsing in cold water after cooked to stop the cooking.
Toss the cucumbers, soy mixture and noodles.
Provencal Black Eyed Peas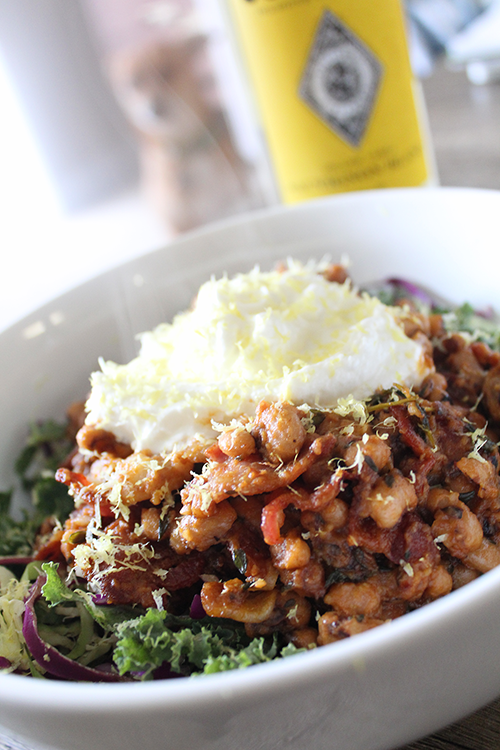 Ingredients
12 oz. can Black Eyed Peas
5 Slices of Bacon, cut into ½ inch pieces
1 Onion, thinly sliced
4 Sprigs Thyme, stemmed
8 Cloves Garlic, minced
1 Tsp. Smoked Paprika
1 Tbsp. Apple Cider Vinegar
Olive Oil
Greens for serving
Greek Yogurt for serving
Zest of one Lemon
Method
In a large pan over medium high heat, cook the bacon until all the fat is rendered. Once cooked, remove bacon and set aside.
To the bacon fat, add garlic and onion, saute until soft, adding a bit of olive oil as needed.
Add black eyed peas, thyme and paprika, coating the onions and peas in the thyme, bacon fat and paprika.
Add apple cider vinegar to the pan to deglaze, and cook until all liquid is evaporated.
Serve warm over a bed of greens and top with a spoonful of greek yogurt and lemon zest.