Legendary Filmmaker's Winery and LA's New Professional Soccer Team Partner on Three-Year Deal
The Family Coppola is proud to announce that Francis Ford Coppola Winery has been named the official wine partner of the Los Angeles Football Club (LAFC), the new Major League Soccer team located in the brand new, state-of-the-art Banc of California Stadium. The California-based winery owned by one of Hollywood's most proclaimed filmmakers will bring its wildly popular Sofia and Diamond Collection wines to the over 22,000 Los Angeles soccer fans – perfect for the stadium's culinary line-up of delicious Los Angeles food favorites.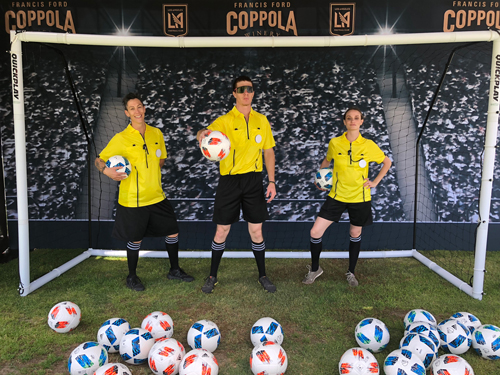 "There is nothing like a live event," says Francis Ford Coppola. "In a world of pre-recorded experiences, there's a certain thrill to being in a stadium watching a game. Los Angeles is a city dear to my heart and I'm glad we're a part of the much-anticipated opening of LAFC's Banc of California Stadium."
"We're thrilled to partner with such a premier California winery," says Jamie Guin, SVP Corporate Partnerships from Los Angeles Football Club. "The Coppola brand is a perfect complement to Los Angeles' vibrant food and wine scene and adds to the fan experience at our games."
The three-year, multi-platform partnership will include unique pre-game tailgating events in LAFC's Fan Zone featuring a Francis Ford Coppola Winery bar with newly launched Diamond Collection white wines in light and stylish cans. Fans can participate in a soccer-themed photo opportunity that they can share with friends and family. Future integrations will include interactive moments within LAFC's app; special animated videoboard celebrations in the stadium; and short-form content highlighting players and the Coppola winery.