I like to think that through food and wine you can be wherever you want to be whenever you want to be there. As we move through life, lots of things change, responsibilities get greater and you can't always jet off to your favorite place in the world on a moment's notice. But in the kitchen, you can re-create some of the reasons that those places stole your heart to begin with. For me, Barcelona is one of those places. And the recipes below, while deviating from true traditional versions, are what I remember from my time there. I hope this might inspire you to find a recipe from a place you love, turn on music that reminds you of your first time there, open a bottle of wine, and rediscover that romanticized place that sits firmly in your mind's eye. Salud!
Patatas Bravas and Pulpo!
Ingredients
- 1 C vegetable oil (for both the Patatas and Pulpo)
Patatas
- 3 Russet potatoes, peeled and cut into 1 in cubes
- Salt
Octopus
- 1 lb Octopus (trimmed to tentacles)
- 1 egg, beaten
- ½ C Bread Crumbs
- 1 Tbsp red pepper flakes
- 1 Tbsp smoked paprika
- Salt
Tomato Sauce
- 12 oz crushed tomatoes
- 1 Tsp Orange blossom water
- 3 cloves garlic, minced
- 1 Tbsp Smoked paprika
- Olive oil
- ½ Tsp Cayenne
Aioli
- 1 egg yolk
- ½ C olive oil
- 6 cloves garlic, finely minced
- Salt
Method
Patatas
A note of caution: This preparation utilizes a HOT HOT HOT pan. So please use extreme caution with this recipe and be sure to have a good pair of pot holders on hand.
Preheat oven to 400 degrees.
Dress a baking sheet with 4 Tbsp vegetable oil and bake it as is for 5 minutes.
Take the baking sheet out of the oven – THIS IS HOT HOT HOT! Be cautious.
Carefully toss the potato cubes in the hot oil and salt and spread them on the hot tray.
Return the tray to the oven until the potatoes are golden brown – approx. 40 minutes.
The trick here is that all sides of the potatoes get golden brown due to the hot pan and oil and you aren't left with a batch of soggy bottomed patatas – it also is much less messy than a stovetop fry.
Pulpo (aka Octopus)
You have no idea how many people you will impress by cooking octopus at home. Seriously, if you're looking for a heavily liked Instagram post, I would suggest taking a whack at this. It's super simple and incredibly delicious.
I guess we should start with the purchase as we're not talking chicken breasts here – get thee to a trusted grocer. I would say some of your higher end grocers stock octopus regularly – at least of the frozen variety.* If you are buying fresh octopus, you can ask the friendly face at the fish counter to remove the tentacles for you – that's what we'll be using for this dish (and this way they won't charge you for the parts that we aren't using – in fact you might see them the next day in a cold octopus salad in the prepared foods section).
Get home, open your package of tentacles and put your game face on. Just kidding! I promise this is super easy.
Bring 2 quarts of salted water with a bay leaf to a boil on the stovetop.
This is our tenderizing step. Do not skip this step for any reason. When you dip the tentacles, do you need to keep them in the water for any amount time? 2 or 3 seconds before lifting them out? Watch in wonder as the tentacles curl right up.
Once all tentacles are in the water, turn the heat down and let them simmer for about an hour. Find a good book and a glass of wine and enjoy the initial accomplishment. You, my friend, are cooking octopus.
Drain your tentacles and pat them dry with a paper towel.
Combine your bread crumbs, paprika, red pepper flakes and a pinch of salt.
Set up your breading station – octopus, egg, breadcrumbs – right next to the stove to prepare for frying.
Heat a ½ cup of vegetable oil over high heat.
While the oil is heating up, begin to bread your octopus.
a. One by one, dip a tentacle in egg and then in the breadcrumbs and then place carefully in the hot oil. Let's not get crazy here; be careful so you don't end up with a burn.
Prepare a plate with a paper towel to place your finished octopus.
As your tentacles get golden brown, flip them and get the other side golden brown.
Once you are happy with the gild of each tentacle, place them on your prepared plate to soak up excess oil.
Enjoy!
Tomato Sauce
In a medium saucepan, heat about 1 ½ TBSP Olive Oil.
Add your minced garlic and a pinch of salt to the oil and let simmer for about 2 minutes, constantly stirring. You don't want the garlic to brown, just to sweeten up a bit.
Add the remaining ingredients – tomatoes, orange blossom water, paprika and cayenne, and bring to a boil.
Turn heat down and simmer for 10 minutes.
Voila!
Aioli
1. This one is as simple as - mix those ingredients up and enjoy.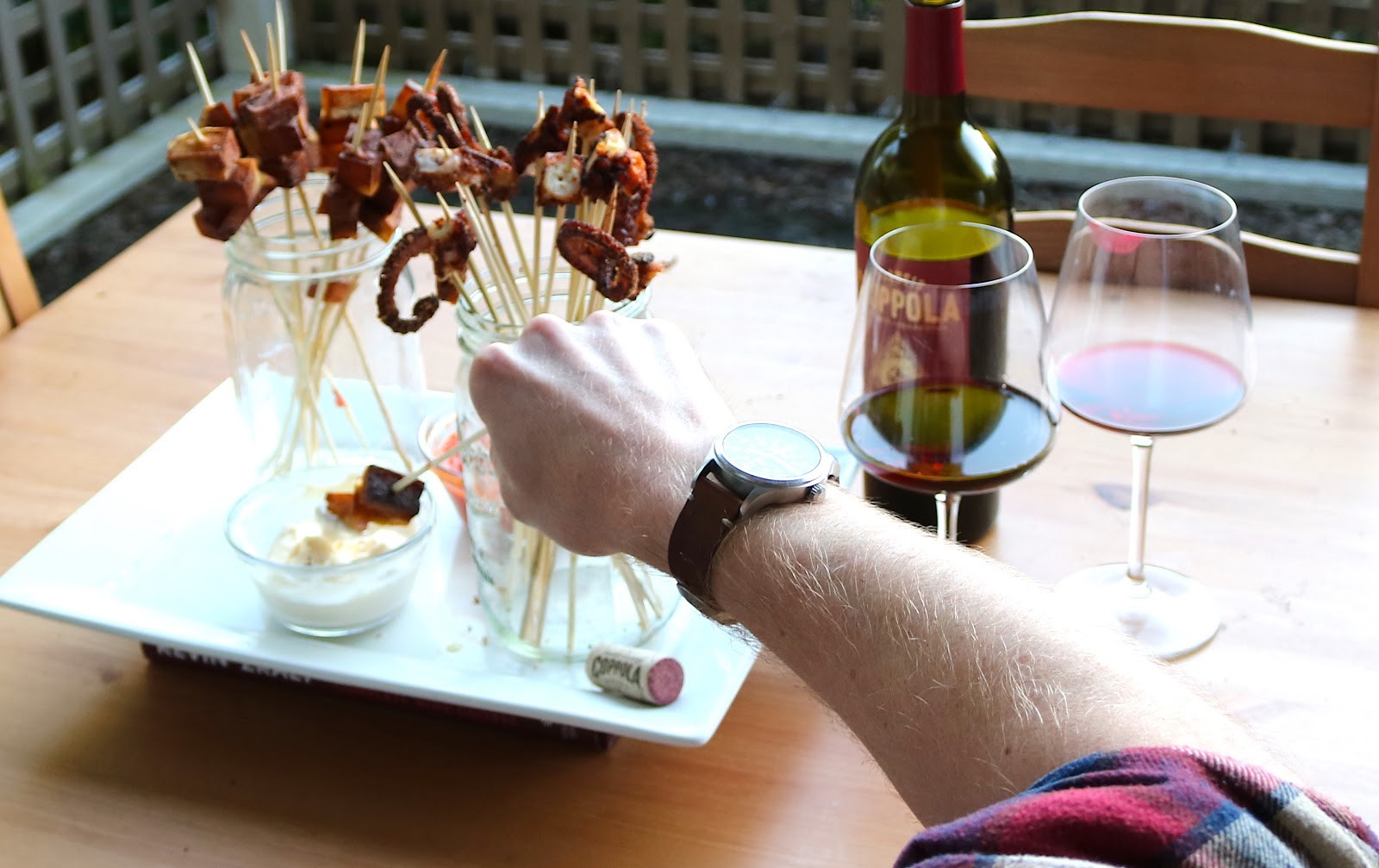 My serving suggestion for this? Skewer the patatas and the pulpo. Sit outside. Find someone with whom you enjoy conversation. Open a bottle of Zinfandel (we've got a good one). Enjoy yourself.
*There are pros and cons to frozen octopus. Frozen octopus tends to be a bit tenderer than fresh octopus, but it isn't nearly as gram-worthy.
Here are some of my favorite Spanish songs and/or songs about Spain.
1. La Flaca – Jarabe de Pablo
2. Holiday in Spain – The Counting Crows
3. Barcelona – Freddy Mercury & Montserrat Cabelle
4. We're From Barcelona – I'm From Barcelona
5. Bongo Bong – Manu Chao
6. Asturias – Juan Quesada
7. Entre Olas – Juan Serrano
8. Spin in the Rye – The Unfinished Symphony