In 2008, we debuted our first vintage of Votre Santé wines, developed as an homage to Francis's Grandmother who toasted "a votre santé" with every meal. Votre Santé wines have represented off the grid vineyards throughout up and coming regions, dubbed "the other California." We are excited to announce the addition of a single AVA (American Viticultural Area) tier we are calling our Votre Santé "Micro Cru" wines. We could not think of two better regions to represent the debut vintage of these boutique wines than Santa Barbara and Anderson Valley.
Sticking with the Burgundian influences that have driven the Votre Santé brand, we are producing Chardonnay (Santa Barbara) and Pinot Noir (Anderson Valley). In addition to sourcing from world class and relatively undiscovered growing regions, our winemaking team has taken additional steps to craft a unique and exceptional product; wines were separated by soil type, aged in hand selected French oak barrels, and bottled unfiltered to maintain their truest expressions. Wines are limited production with release limited to our Wine Family, visitors to our Geyserville tasting room and online.
Vineyards:
While our California Votre Santé wines focus on sourcing from various cool-climate and lesser-known regions throughout California, our Micro Cru wines have focused on specific AVA's (American Viticultural Area) or regions where Chardonnay & Pinot Noir have thrived; Santa Barbara and Anderson Valley.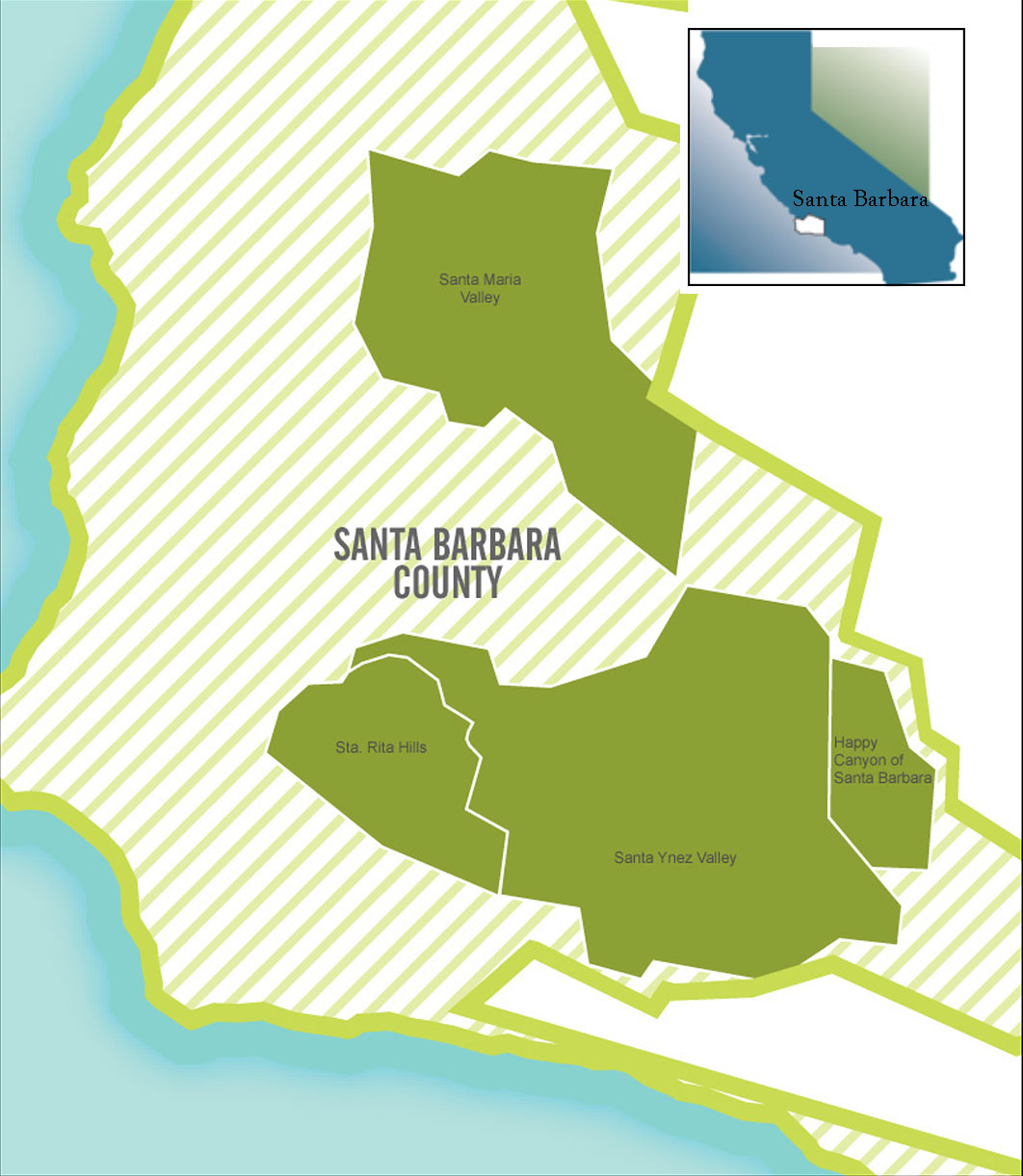 Santa Barbara:
Santa Barbara County represents the only place in North America where the coastal mountain ranges transition from full North-South orientation to full East-West funneling marine influences from the Pacific Ocean. The result is a cool-climate where crisp wines and unique flavor profiles abound. Our Santa Barbara Chardonnay comes from Santa Maria, an area best known for producing Chardonnay with flavors of lemon zest and pears with a firm acidity allowing them to age gracefully. The Garey Vineyard in Santa Maria, where this wine hails from, is located at the north end of Santa Barbara County. The mesoclimate here is truly coastal with thick fog blanketing the area every morning and evening. Vines are located on a plateau of sandy, well-drained soils. The growth cycle here starts in February and can run through November, making it the longest growing season in California. This extra hangtime allows the fruit to develop complexity and concentration.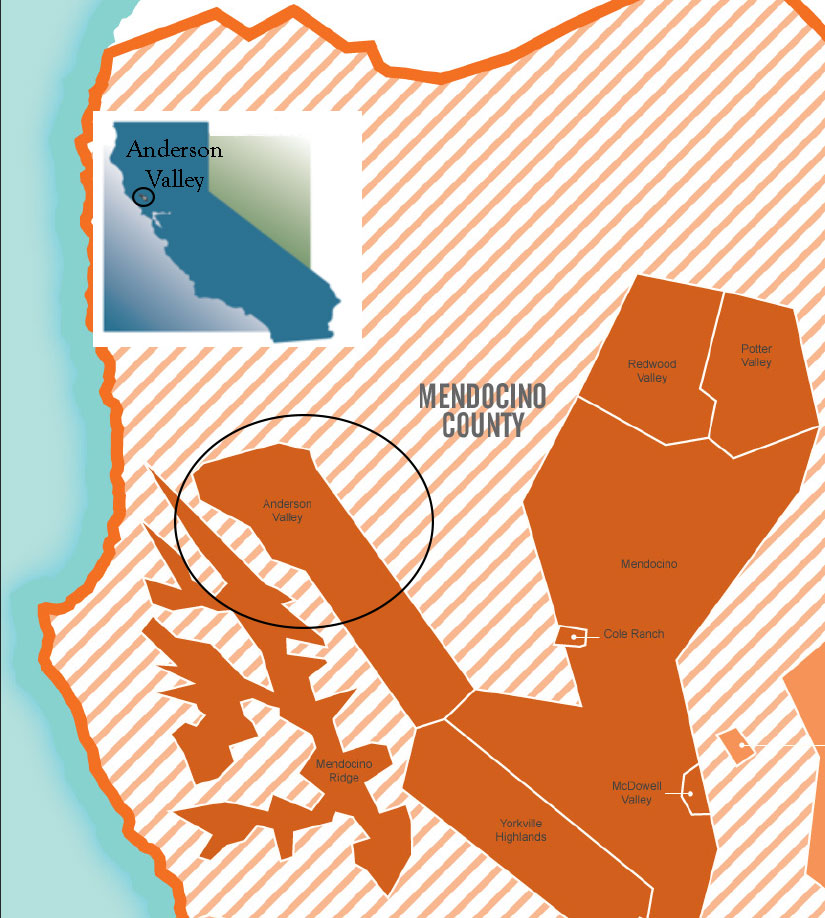 Anderson Valley:
European settlers first recognized Anderson Valley's winegrowing potential in the 1850s, but for a century the appellation was overshadowed by the fame of Napa Valley. That is, until French Champagne house Roederer started sourcing fruit there in the 1980s for its California sparkling. Today, this AVA is one of the state's most prized appellations for Pinot Noir. Our debut Anderson Valley Pinot Noir is composed of fruit from two vineyards. The first, located in the northwestern part of the valley has a cool climate and loamy soils, which tend to create a distinct pine forest-spice nuance. Fruit here ripened at the end of the season and the longer hang time really helped enhance aromatics. The second vineyard, located centrally on the eastern half of the valley, has a warmer climate that produces fruit with deep, black cherry flavors.
Winemaking:
The French approach to winemaking embraces the philosophy of terroir. That is, the character of a wine is defined by variables such as soil, climate, geology and elevation, basically everything outside of human control. In this spirit, it's the winemaker's role to work with the wine in a way that simply lets the vines express themselves. Winemaker Francois Cordesse applies this philosophy to our 'micro cru' wines, whereby small lots of fruit are vinified individually by soil type to capture distinct site-specific traits. By bottling the final blend unfiltered, the wine exists in a purer state with more texture and truer aromatic expressions, along with natural sediment that helps the wine mature and evolve as was the tradition for hundreds of years.
Check out the below video to get a better understanding of how grape growing and winemaking philosophies translate into great wine.