This Rustic Pie comes from Mama Coppola's recipe book and is a delightful addition to any weekend brunch or holiday celebration. There is a recipe for a crust below, but if you are short on time, a pre-rolled crust is just fine! This is sure to be a crowd pleaser when served alongside a crisp glass of Pinot Grigio, the new Decemberists Album, "I'll Be Your Girl" and a game of rummy.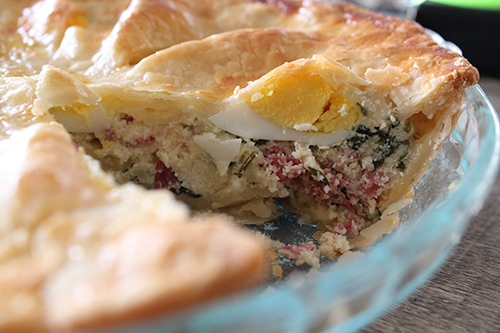 Rustic Pie
Ingredients
Crust
2 C. Flour
1 C. Butter
¼ Tsp. Salt
3 Tsp. Cold Water
Filling
3 Hard Boiled Eggs, cut into quarters
3 Eggs, Beaten
¼ lb. Ham
5 Slices Provolone
1 ½ C. Ricotta
1 C. Parsley, Chopped
8 Slices Salami, Sliced
¼ C. Mozzarella Cheese, Shredded
1 egg yolk, beaten
Salt and Pepper
Method
Preheat oven to 400 degrees.
Mix the beaten eggs thoroughly into the Ricotta.
Add salt, pepper, parsley and shredded Mozzarella.
Add the ham, salami, provolone slices and hard boiled egg quarters gently into the ricotta.
Line pie pan with bottom crust, add filling and top with top crust.
In the top crust, add five slits with a small paring knife and brust with beaten egg.
Bake for 15 minutes and pull pie out of the oven to cover the edges of the pie crust with aluminum foil (pictured here) to prevent burning.
Replace pie in the oven for 30 more minutes or until the crust is golden and filling is firm (a skewer should be dry when inserted and removed). Serve warm or at room temperature.