Living the Gourmet started out as a labor of love by Catherine Pappas to preserve her recipes and family stories for her kids and has grown to become a popular food and lifestyle site covering everything from original recipes and wine pairings to celebrity interviews with top chefs, television personalities, and bestselling authors. "As the site grew in popularity," Catherine explained, "I realized that I was helping other people do the same for their families. Really, what is 'everyday gourmet eating' if not taking a moment for yourself, your family or friends, and making a memory over a meal? Our wine features, our product reviews, our interviews with celebrity chefs, all of that ties back to that core purpose. That's what we're about."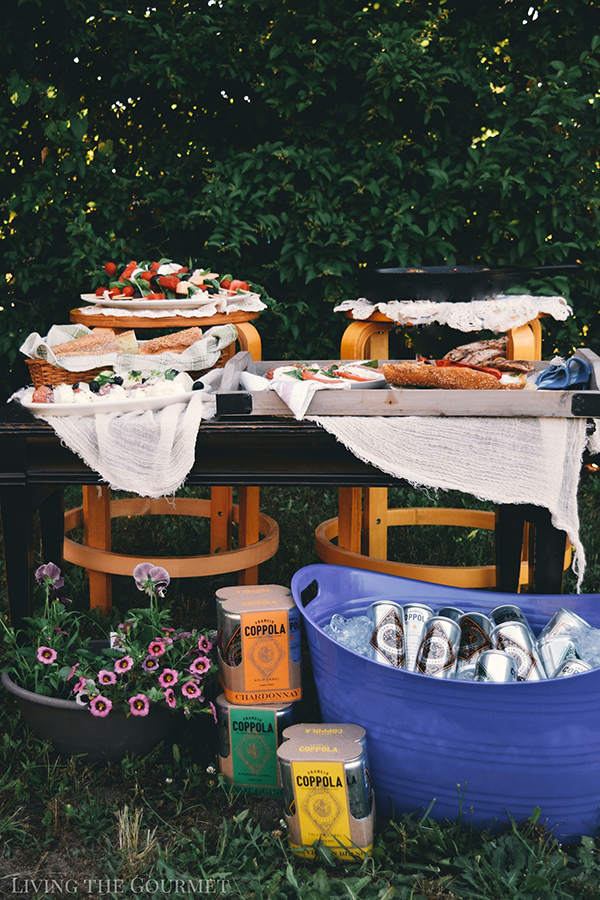 Photo Credit: Catherine Pappas,
Living the Gourmet
Recipe:
Ingredients
· 2 – 2 ½ lbs. of sausage
· 4 red bell peppers – sliced
· 1 large sweet onion – sliced thin
· 5 – 6 cloves of garlic – chopped
· Fresh basil leaves – chopped
· 4 – 5 ripe vines tomatoes – diced
· 3 – 4 tbs. wine
· Pinch of sugar
· 1 tsp. salt
· ½ tsp. black pepper
· ¼ tsp. red pepper flakes
· ½ tsp. dried oregano
· Olive oil
· Fresh Mozzarella
· Sliced beef steak tomatoes
· Fresh basil leaves
· Fresh Romano cheese for grating if desired
· Fresh loaf of Italian bread or bread of your choice
Instructions
1. Heat a large cast iron frying pan and place the sausage links in the pan. Let cook for a minute or two then drizzle a little olive oil over the sausage. Cook sausage to achieve a nice golden color, turning once, then set aside. The sausage can finish cooking in the sauce.
2. Heat a large cast iron frying pan and add the pepper slices. Drizzle a little olive oil over the slices and let the pepper slices get a nice char and remove to a bowl.
3. Add the sliced onions, drizzle a little olive oil over the onions and let them get a bit of a char.
4. Add the diced tomatoes, garlic and chopped basil to the onions and cook the down for a few minutes.
5. Add the pepper slices to the pan, the wine and the seasonings and continue to cook for a few minutes on a gentle heat.
6. Add the sausage to the sauce and cook on a gentle heat until all the flavors meld together, 20–25 minutes on a gentle heat.
7. Serve with grated Romano cheese, fresh mozzarella, sliced tomato and fresh basil leaves and your favorite bread.