From leafy jungle to tranquil turquoise sea, landing in Central America is the best of both worlds. Welcome to Belize, home to natural beauty, sleepy local villages, ancient Mayan ruins and teeming with wildlife (just ask the resident howler monkeys and scarlet macaws). And now, there's a new 8-day winemaker's trip to The Family Coppola Hideaways, starting at Blancaneaux Lodge (3 nights) and ending at Turtle Inn (4 nights). Just remember, like all good trips in life, the journey is the destination.
Nestled in the Mountain Pine Ridge Reserve, Blancaneaux Lodge, an eco-friendly paradise, is surrounded by lush jungles, tumbling waterfalls and quiet creeks. And then there's wine. Where else can you sip award-winning whites and reds in the jungle with a Francis Ford Coppola winemaker, nosh on rustic wood-fired pizzas and authentic Belizean dishes and sleep in rustic-chic thatched roof cabanas decorated with hand-selected Guatemalan and Mexican textiles? Sound like a storybook trip? Oh, there's more.
Deep in the Chiquibul Forest Reserve, head out for some adventure starting at the ancient Mayan site Caracol, which looks like a movie-set and once housed over 150,000 people. Boost your cardio and climb the stairs of the Caana (meaning Sky Palace) and then snap Instagram-worthy panoramic views of the forest-clad mountains. Alternatively, trek though the Tapir Mountain Nature Reserve to the sacred caves of Actun Tunichil Muknal, where shimmering rocks dangle or hop a guided canoe through Barton Creek Cave, dotted with glistening stalactites and stalagmites. Back at Blancaneaux, unwind in the swimming pool, opt for a mid-day massage or go for a gentle horseback riding around the property.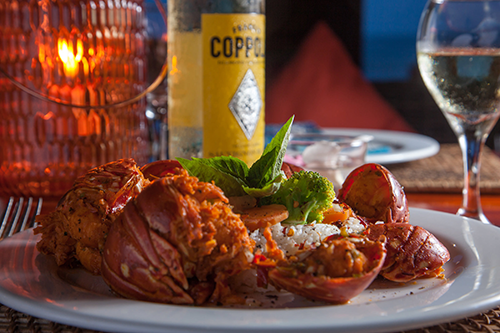 All that adventure leaves you hungry. Thankfully, the day's bounty is plucked from Blancaneaux's organic garden and used inside the Italian restaurant, Montagna. Grab a seat at the curated winemaker's dinners, serving hand-selected wines and special dishes (think hearty salads and authentic Mayan dishes), Pssst: If you're still thirsty later, the Jaguar Bar has proper digestifs.
Pack your bags. In the morning, it's off to the small fishing village of Placencia (about a four-hour drive). In 2001, Francis and Eleanor Coppola opened their chic seafront escape, Turtle Inn, a smattering of 25 thatched-roof cottages adorned with Balinese pieces. Chill out by the ocean or nab a bicycle and peddle into town, popping in the local artisan shops, snacking on ceviche at Rumfish or stopping in for a cold beer or rum special at Barefoot Beach.
Catch an early sunrise then head to Mare Restaurant for a hearty breakfast. After you digest, it's time for water activities. Climb aboard Turtle Inn's resident boat, Miss Ellie for a half-day excursion, whisking you to their 2-acre private island, Coral Caye for snorkeling. Afterwards, relax by the pool with a book or indulge in a Thai massage. Should adventure call, an hour drive takes you to the Mayan ceremonial site of Nim Li Punit. Or drop by the Cockscomb Basin Wildlife Sanctuary & Jaguar Preserve (the world's only preserve for the elusive jaguar) for ample hiking, birding and wildlife sightings. Keep your eyes peeled for those howler monkeys and peccaries (mostly resembling pigs). Later, cool off under refreshing waterfalls.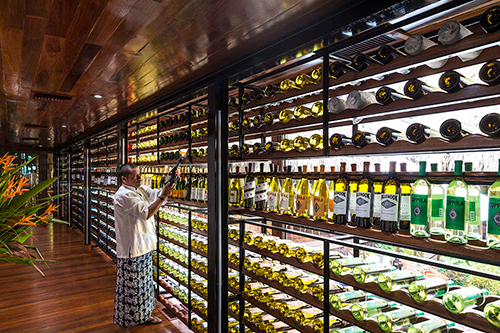 Back at Turtle Inn, the wine continues to flow. You can't miss the dining room's new "wine aquarium"– a backlit wall holding the largest wine collection in Central America. Designed by native Belizean Margarito M. Ortiz and housing over 1,200 bottles, there are selections from Sonoma County, Napa's Inglenook Estate alongside vintages from Chile, Argentina, Italy and France. On the last night, attend a farewell feast with a Coppola winemaker. And afterwards, release illuminated wish lanterns into the night sky. Before bed, take one last evening sway on the hammock and look up to a vast world of twinkling stars. Rest well. In the morning, a short hopper flight whisks you back to Belize International Airport.
Then, it's on your way home. Wave goodbye, for now.

Winemaker Week at The Family Coppola Hideaways in Belize is November 29th - December 6th, 2017. For pricing and reservations, please visit https://www.thefamilycoppolahideaways.com/en/blancaneaux-lodge/experiences/winemaker-week