Some weeks are full of things to do, people to see and places to go. Others are a little bit more low key and potentially in need of a midweek pick me up. That's where these lamb tacos come in. They are a little different than your average Tuesday night taco and with the addition of spicy raw jalapeno and sweet pineapple sure to excite your taste buds!
The playlist for this week is a little bit mellow, a little bit rock-and-roll and a lotta bit exciting. Full of some old favorites and some new tracks, it's excitement for your earbuds.
I'd pair this food and listening experience with a bottle of our Diamond Collection Scarlet Label Red Blend – the packaging and wine inspired by Scarlet O'Hara of Gone with the Wind. It's tempestuous and alluring and has a bold presence with rich spicy nuances that make it anything but demure. Kind of like these tacos. Enjoy!
LAMB TACOS

Ingredients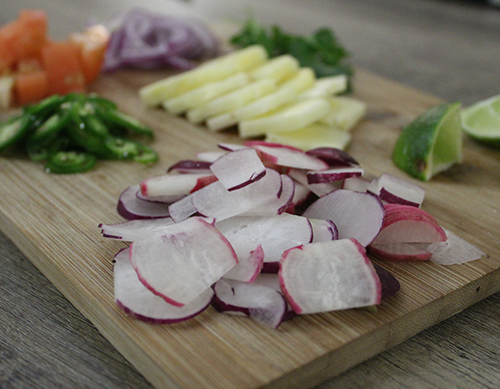 For Filling
1 lb. ground lam
1 onion, diced
4 cloves garlic, minced
1 jalapeno, seeded and diced
1 12 oz can crushed tomatoes
1 Tbsp. cumin
1 Tbsp. oregano
1 Tbsp. smoked paprika
Oil to cookSalt and pepper to taste
For Serving
1 jalapeno, thinly sliced
10 sprigs of cilantro, chopped
10 medium sized corn tortillas
Bunch of radishes, thinly sliced
¼ pineapple, thinly sliced
1 tomato, chopped
1 lime, in small wedges
Cheese of your liking (I like a shredded Manchego for this!)
Method
Heat a splash of oil in a large sauté pan.
Sauté onion, garlic and jalapeno over high heat until soft.
Add cumin, paprika and oregano, and mix well.
Reduce heat to medium-high and add lamb and tomatoes.
Keep on heat until lamb is cooked through, stirring occasionally, about 7-8 minutes.
Build your tacos to your tastes – using the suggested toppings or any other that you deem worthy!