Some nights call for takeout and some nights call for a little something special. With the season change comes the daylight change. Sometimes on a chilly, dark Tuesday night, it's nice to make something that's warm and luscious, yet herbaceous and bright all at once. This chicken is spatchcocked, or de-backboned, for a quick cook. The pan used to cook this chicken is heated prior to use to ensure that both top and bottom of the chicken are seared and crispy.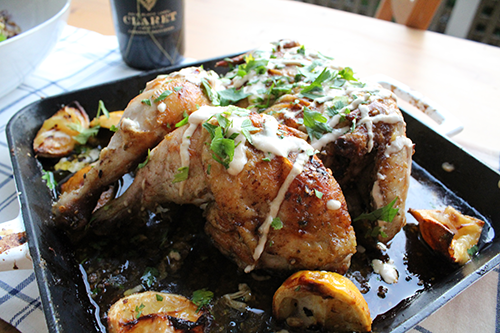 The spice blend, Za'atar is a Middle Eastern spice blend and can be a mix of many things, but most traditionally is a mix of Oregano, Sumac, Sesame Seed and perhaps Cumin. You should be able to find it at a local high end grocer. If you're feeling adventurous and flush, my favorite is from La Boite spices.
This dinner pairs deliciously with both Diamond Collection Chardonnay and Pinot Noir - it really just depends on your mood!
Za'atar Chicken and Potato Hash
Ingredients
Chicken:
1 Whole Chicken (gizzards removed)
¼ Cup Olive Oil
3 Tbsp. Za'atar
1 Tbsp. Red Pepper Flakes
1 Tbsp. Kosher Salt
Tahini Sauce:
½ Cup Tahini
½ Cup Greek Yoghurt
Juice of one Lemon
Pinch of Salt
Potato Hash:
2 lbs multicolor fingerling potatoes, quartered
2 yellow onions, sliced thin
3 Tbsp. Olive Oil
3 Tbsp. Butter, melted
3 Tbsp. Minced garlic
1 Tbsp. Red Pepper Flakes
1 Tsp. Kosher Salt
Method
Heat your oven to 350 degrees. Once hot, place a large cast iron (empty) into the oven. Heating the pan prior to roasting the chicken will enable you to get two delightfully seared sides of the bird.
Prepare the chicken

Remove the backbone from the chicken. This can be accomplished easily using a heavy duty pair of chicken shears. I would suggest saving and freezing the backbone to use for a stock later on in the winter.
Mix Za'atar, red pepper, salt and olive oil in a small bowl to form a paste.
Using your hands, spread the paste all over the chicken, adding a bit more if desired.
After 10 minutes in the warmed oven, pull the cast iron skillet from the oven (carefully using appropriate oven mitts!) and lay out your chicken (interior side down) on the skillet.
Place your chicken in the oven and cook for 35-40 minutes or until a thermometer reads 165 degrees.

Prepare the Potatoes

Using a large ovensafe skillet (cast iron is preferable) with a lid. The lid is key here! Place this pan in your already heated (350 degree) oven for ten minutes.
While your pan is warming, toss your quartered potatoes with butter, olive oil, salt, red pepper and garlic in a large bowl.
When your pan is ready, pour the potatoes into the warmed pan and put back in the oven for 20 minutes.
After 20 minutes, carefully pull the potatoes from the oven and move them to a burner on your stovetop.
Top the potatoes with your sliced onions, cover the pan and cook on medium heat for another 20 minutes - keeping the steam in the pan is key - so no peeking!
At the 20-minute mark, open your pan - the potatoes should be steamed to perfection with the initial seared exteriors giving a ton of flavor. Carefully, mix and smash the potatoes to create an easily scoopable potato dish.

Prepare the Tahini Sauce

. This is super easy! Mix all four ingredients up and voila! You have a delicious drizzle for your chicken and potatoes. I keep mine in a squeeze bottle, but spooning it over the meal works wonders as well!