Taste Profile



The Roanoke Collection features uniquely crafted, limited production wines that showcase distinctive vineyards from renowned appellations in Sonoma County
The Roanoke Collection features uniquely crafted, limited production wines that showcase distinctive vineyards from renowned appellations in Sonoma County.
Virginia Dare Winery celebrates the people, places, and history that have shaped American winemaking. The Roanoke Collection features wines that honor the history of the Roanoke Colony, one of the first English settlements in the New World that mysteriously disappeared, leaving behind one of the great mysteries in American history and setting forth the stage for the origin story of American wine.
Wine Notes
Creamy and full-bodied, our 1587 Chardonnay presents fragrant impressions of guava, lemon, honeysuckle, and vanilla bean on the nose followed by luscious flavors of pear, pineapple, toasted almond, and crème brûlée. Spice notes are abundant and enhanced by the generous use of new French oak. The wine's beautiful richness is perfectly balanced by zesty natural acidity that crowns the finish.
Because of its proximity to the Pacific Ocean, the Russian River Valley is greatly influenced by the coast. Fog rolls over the vineyards each evening, dropping the temperature by as much as 35 to 40 degrees. This natural air conditioning contributes to an extended growing season where the grapes are able to mature slowly and maintain a good level of natural acidity. Sanchietti Vineyard is located on the border of Green Valley and Sebastopol Hills. The Goldridge sandy loam soils in the vineyard provide for good drainage, which helps create extremely concentrated fruit.
2016 resembled vintages of nearly a decade ago where a cold, rainy winter prepared the vines for good yields. This helped prolong the season, giving the vines extra hang time to accumulate flavor and phenolic development. Conditions were further optimized by staggered ripening, where each varietal reached maturity a week or two apart. This allowed us to devote more attention to each batch of fruit. Our 1587 Chardonnay is barrel fermented. The wine is left on the lees and stirred daily to achieve a smooth texture. It also undergoes partial malolactic fermentation.
It's a Lifestyle
Wine Facts
Enjoy the Scents and Flavors
Scents



Flavors



Barrel Regimen
19 months in French oak; 50% new oak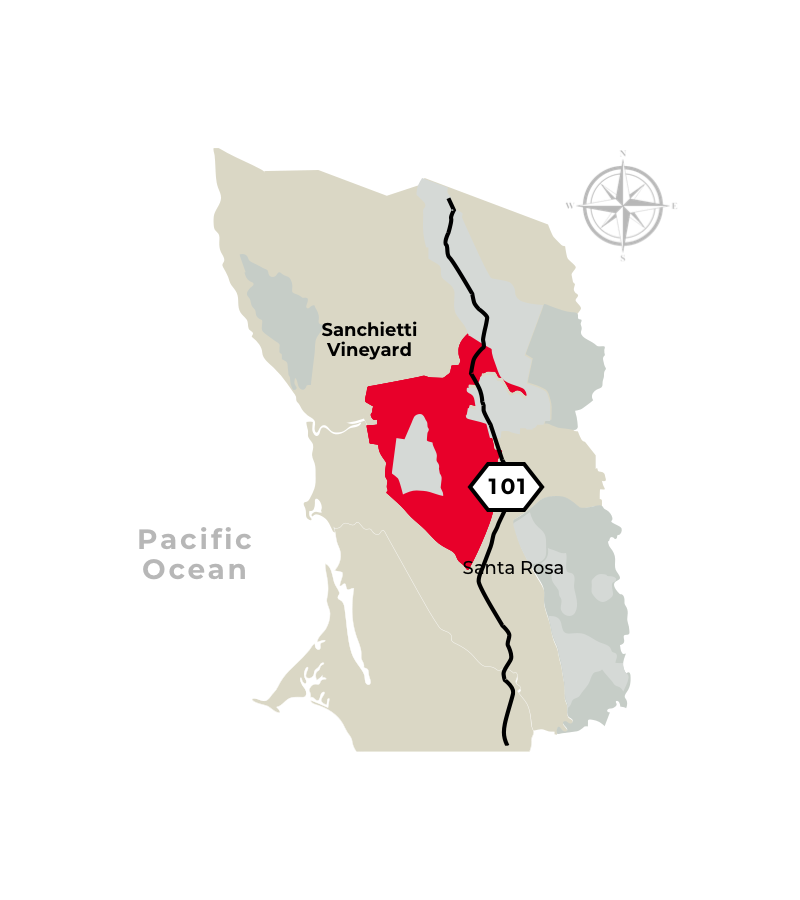 Sanchietti Vineyard, Russian River Valley
Pairs Well With