2016
Director's Cut Cabernet Franc
Taste Profile



Named after the version of a film which most reflects the director's vision, Director's Cut wines represent our winemaker's vision of varietal wines, which express true appellation character
Named after the version of a film which most reflects the director's vision, Director's Cut wines represent our winemaker's vision of varietal wines, which express true appellation character.
In the film business, the "Director's Cut" emerged as a means for filmmakers to present their own creative vision of a story. At Francis Ford Coppola Winery, Director's Cut wines were created as a way for our winemakers to craft wines that would reflect their own unique interpretation of the quintessential Sonoma wine.
Wine Notes
Director's Cut wines embrace appellation specific sourcing, meticulous fruit selection, and numerous blending trials in order to capture the distinct nuances of Sonoma's microclimates.
Knights Valley is one of the warmest subappellations of Sonoma County, making it an ideal location for Bordeaux varietals such as Cabernet Franc. Located at the base of the Mayacamas Mountains, the range that separates Sonoma from Napa Valley, Knights Valley features warm, fertile, volcanic soils that reside at elevations above the effects of the fog layer. Since the weather is consistently warm, Cabernet Franc from this region becomes intensely ripe and fragrant.
The 2016 vintage produced such gorgeous and expressive fruit that we wanted to create an exclusive varietal bottling of Cabernet Franc. The grapes matured slowly and had extra hang time so that the fruit could develop intense flavor concentration and a well textured palate. Because harvest was spread out over many weeks, the winemaking team had the luxury to devote more attention to each batch of fruit.
Wine Facts
Enjoy the Scents and Flavors
Scents



Flavors



Barrel Regimen
22 months in French oak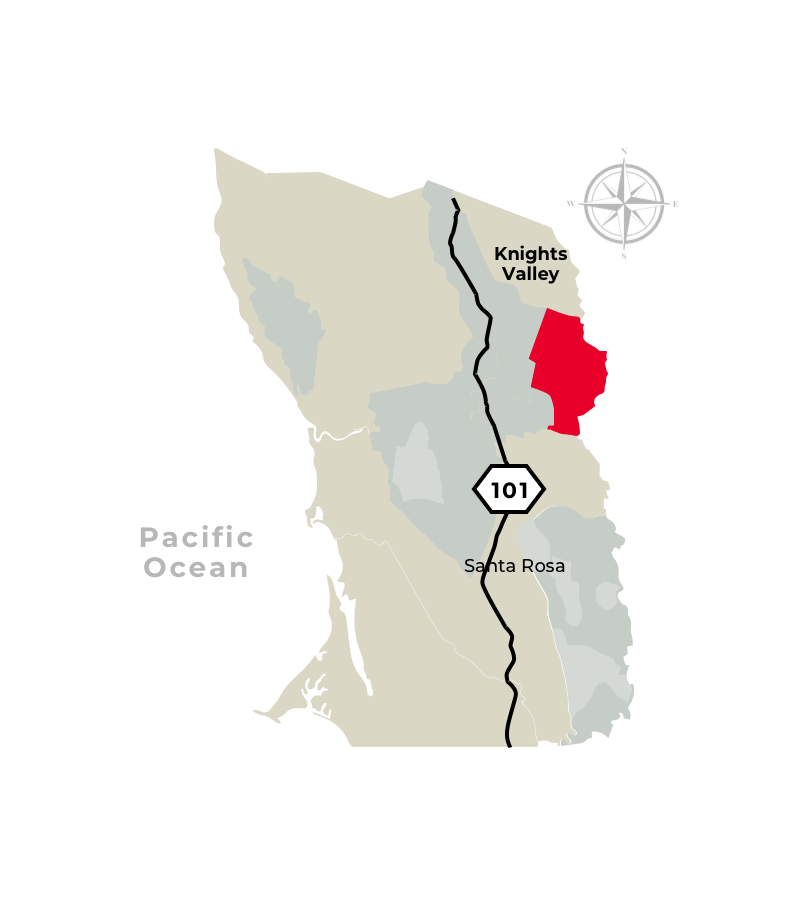 Knights Valley
Pairs Well With