2018
Domaine de Broglie Pinot Gris
Taste Profile



Domaine de Broglie wines are sourced from our very own property in the Willamette Valley, a location considered as the origination for some of Oregon's most acclaimed vineyards
Domaine de Broglie wines are sourced from our very own property in the Willamette Valley, a location considered as the origination for some of Oregon's most acclaimed vineyards.
From the time he was a child, Francis Ford Coppola had such a keen interest in engineering and technology that his family nicknamed him 'Science.' Over the years, Francis has paid tribute to a number of scientific achievements by naming wines and spirits after some of history's greatest minds. With The Family Coppola's new property in Oregon, Francis wanted to endow the estate with a name that honored the scientific accomplishments of Maison de Broglie, a noble house of France, whose contributions to physics and quantum theory resulted in a Nobel Prize for Louis de Broglie, a man whose scientific contributions coincided with those of Albert Einstein.
Wine Notes
Sourced from several vineyard blocks in the Dundee Hills, our 2018 Pinot Gris boasts aromatic complexity and purity of flavor. The wine shows richness, weight, and concentration but also has vibrancy. Nuances of pear, pineapple, tangerine, and pink grapefruit mingle with floral essences. An undercurrent of minerals gives the wine an elegant edge.
Unlike other Willamette Valley appellations that have numerous types of sedimentary soils from glacial floods, wind carried soils from the valley floor, and a mix of old and new volcanic material, the Dundee Hills appellation features Jory soils, a rich red clay formed by ancient volcanic basalt. The appellation has become famous for producing some of the world's finest Pinot Noir, with related varietals such as Pinot Gris also thriving in this region.
After several warm seasons, the 2018 vintage experienced hot weather during the summer months that was tempered by cooler temperatures and spats of precipitation toward the end of the growing season. This swing helped balance the fruit's ripeness and texture with crisp natural acidity that's important for varietals such as Pinot Gris. When the fruit was harvested, we were extremely pleased with the expressive nature of the grapes.
Wine Facts
Enjoy the Scents and Flavors
Scents



Flavors



Barrel Regimen
Stainless steel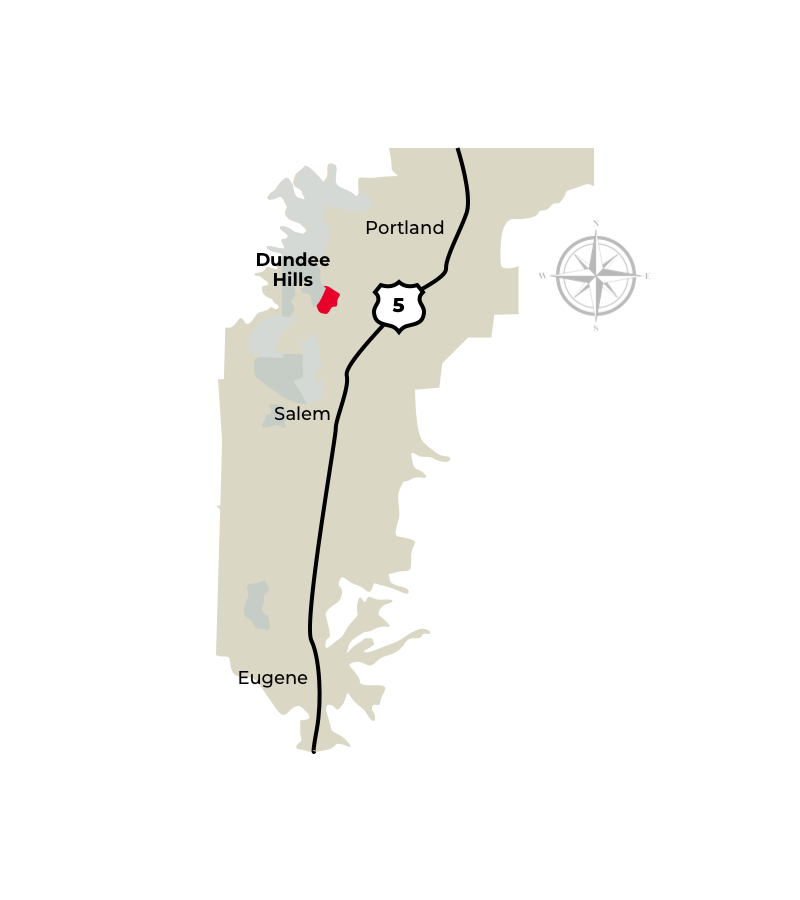 Dundee Hills, Willamette Valley, Oregon
Pairs Well With