2018
Domaine de Broglie Pinot Noir | Block C - Clone 777
Taste Profile



Domaine de Broglie wines are sourced from our very own property in the Willamette Valley, a location considered as the origination for some of Oregon's most acclaimed vineyards
Domaine de Broglie wines are sourced from our very own property in the Willamette Valley, a location considered as the origination for some of Oregon's most acclaimed vineyards.
From the time he was a child, Francis Ford Coppola had such a keen interest in engineering and technology that his family nicknamed him 'Science.' Over the years, Francis has paid tribute to a number of scientific achievements by naming wines and spirits after some of history's greatest minds. With The Family Coppola's new property in Oregon, Francis wanted to endow the estate with a name that honored the scientific accomplishments of Maison de Broglie, a noble house of France, whose contributions to physics and quantum theory resulted in a Nobel Prize for Louis de Broglie, a man whose scientific contributions coincided with those of Albert Einstein.
Wine Notes
Intense and concentrated, dark cherry fruit is evident on the nose with frontal forward red fruit flavor. Subtle spicy woodiness with a trace of vanilla. Mid-palate is balanced with firm, but relatively fine tannins. This wine is very well rounded with deep color and balanced structure. It is drinkable young, because of the forward fruit, but it also has the structure and acidity to age well for a long time.
Block C, an 8-acre parcel, is planted exclusively with Clone 777 and resides at the highest altitude of all our vineyards. This block is shaped like a spherical cap, giving it sun exposure on all sides.
2018 was a very hot and dry season with fantastic weather during harvest. Normally, this would cause us to expect overripe fruit, but we were fortunate that this did not happen. The grapes developed sugar slowly and steadily and remained balanced. We were able to hang well into September for color and skin development. Great weather meant no concerns about rot or botrytis or rain damage at all. This was an ideal vintage, at least at Domaine de Broglie's high elevation. The wines are generally extremely dark, with great mellow tannins, intense concentrated fruit, and ideal acidity.
Wine Facts
Enjoy the Scents and Flavors
Scents


Flavors



Barrel Regimen
16 months in 100% French oak, 29% new barrels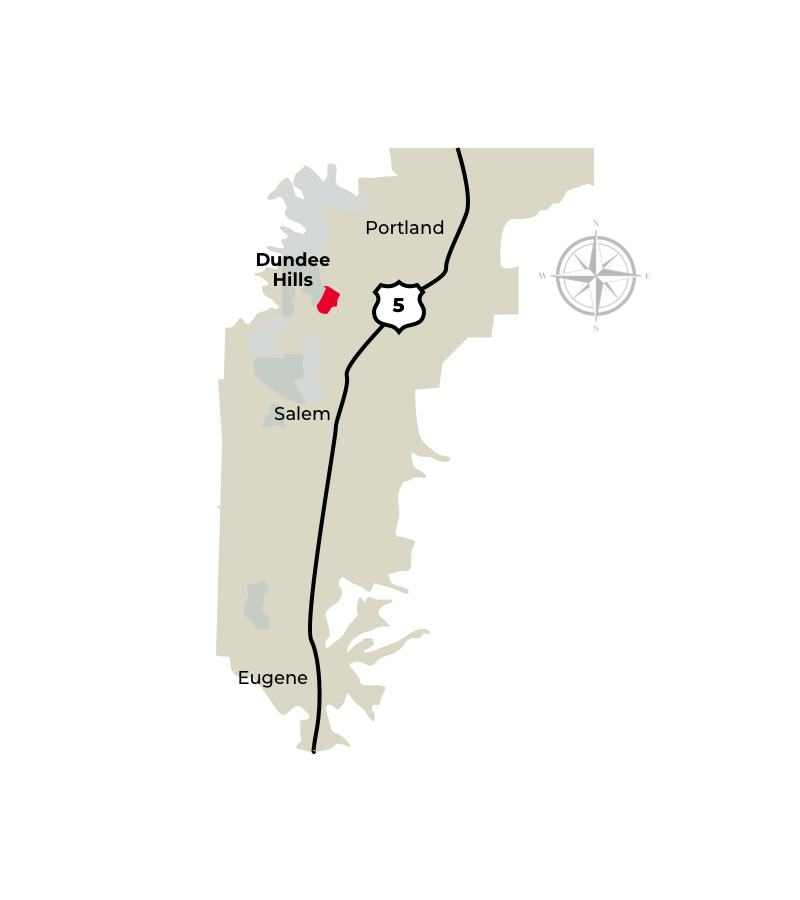 Dundee Hills, Willamette Valley, Oregon
Pairs Well With