2018
Francis Coppola Reserve Syrah
Taste Profile




The connection between a vine and the soil it's planted in creates the essence of a wine. Francis Coppola Reserve wines are vineyard-specific creations produced in limited quantities
The connection between a vine and the soil it's planted in creates the essence of a wine. Francis Coppola Reserve wines are vineyard-specific creations produced in limited quantities. Our winemaking team hand-selects the best lots of fruit from each vintage that capture the unique qualities of these prestigious vineyards. From these selections, we craft small-batch wines which are reserved exclusively for our winery guests, Wine Family members, and those who shop with us online.
Wine Notes
Elegant and layered with pure, vibrant flavors, our 2018 Francis Coppola Reserve Syrah greets the nose with notes of cassis, baking spices, and black pepper. Complex and round on the palate, warm and spicy flavors of raisin, graphite, pepper, and clove are accented by notable violets, culminating in a luxurious finish.
Nimble Vineyards
Situated in a well-wooded, picturesque area of Dry Creek Valley, the rolling hills and higher elevation of Nimble Vineyard offer ideal terrain for mountain-grown wine. Alluvial silt and clay loam soils in this region have a high level of organic matter. This accentuates the dark, jammy fruit flavors of Syrah. The climate here is also ideal with steady temperatures hovering around 85 degrees due to the hills shielding the vineyards from the Pacific's cool coastal breezes. Even though it's warm during the day, fog makes its way into the valley each evening to cool the vineyards. This pattern prolongs the growing season, enabling the grapes to mature slowly and develop greater concentration.
The last couple of vintages have seen a return to classic seasonal patterns, where a cold rainy winter prepares the vines for warm temperatures later. In 2018, precipitation carried on into spring, extending the growing period several weeks past the preceding year. There were also fewer heat spikes this season, so the fruit ripened at a nice steady pace, providing slightly larger yields of very well-balanced fruit.
Wine Facts
Enjoy the Scents and Flavors
Scents



Flavors




Barrel Regimen
15 months in French oak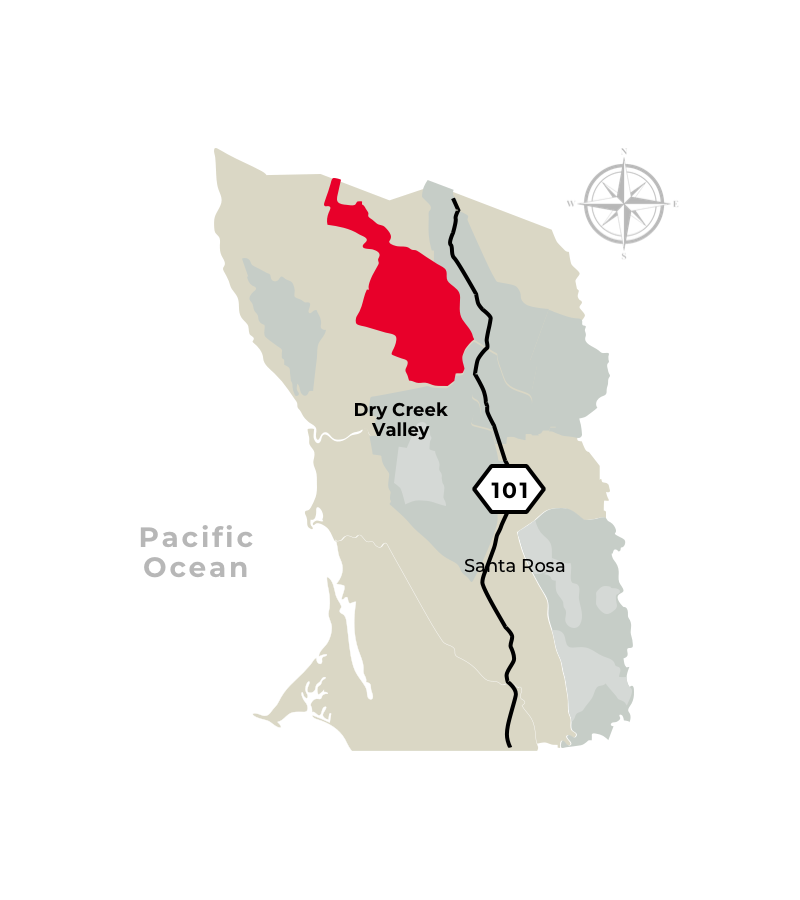 Nimble Vineyards, Dry Creek Valley