2017
H Party Cabernet Sauvignon
Each year at the winery, we hold an annual party in the oak grove called the H-Block Party
Each year at the winery, we hold an annual party in the oak grove called the H-Block Party. The oak grove is a favorite location of our viticulture team. When you grow grapes, they become sort of like your children. So, the vines in H-Block are named after the staff's nearest and dearest, their own sons and daughters. As a tribute to family, the team crafted a special wine inspired by the annual celebration.
Wine Notes
The 2017 growing season delivered smaller than average clusters, which led to excellent concentration and high-quality fruit overall. Vibrant, well-defined flavors combined with a velvety palate that offers tremendous balance between fruit, tannin, and natural acidity makes our debut release of The Family Coppola Cabernet Sauvignon from Pine Mountain - Cloverdale Peak a showstopper. Gorgeous aromas of wild blackberries, anise, smoky minerals, and briar are followed by succulent flavors of cherries, cassis, and cocoa. This is a sophisticated wine that has depth and density but also a freshness that comes from the quality of this excellent vintage.
Cloverdale Peak rises 3,000 feet above the Alexander Valley. Unlike the diurnal climate that defines much of Sonoma where there is a dramatic difference between warm day and cool nighttime temperatures, the elevation of Pine Mountain - Cloverdale Peak creates the reverse condition where it's relatively cool during the day and warm in the evening due to an inversion layer. This along with mountainous volcanic soils create intensely flavored fruit.
Wine Facts
Enjoy the Scents and Flavors
Dark, dense, and full-bodied, the extracted fruit is equally matched by a firm structure and well-integrated tannins that will allow this wine to age well. The bouquet boasts black raspberries, crème de cassis, anise, forest floor, and toasted wood. The palate has just as much heft as flavors flow from the aromas and linger nicely on the spice-driven finish. While already complex in its youth, our H Party Cabernet Sauvignon shows promise that it will derive even more intrigue if given time to mature.
Barrel Regimen
17 months in French oak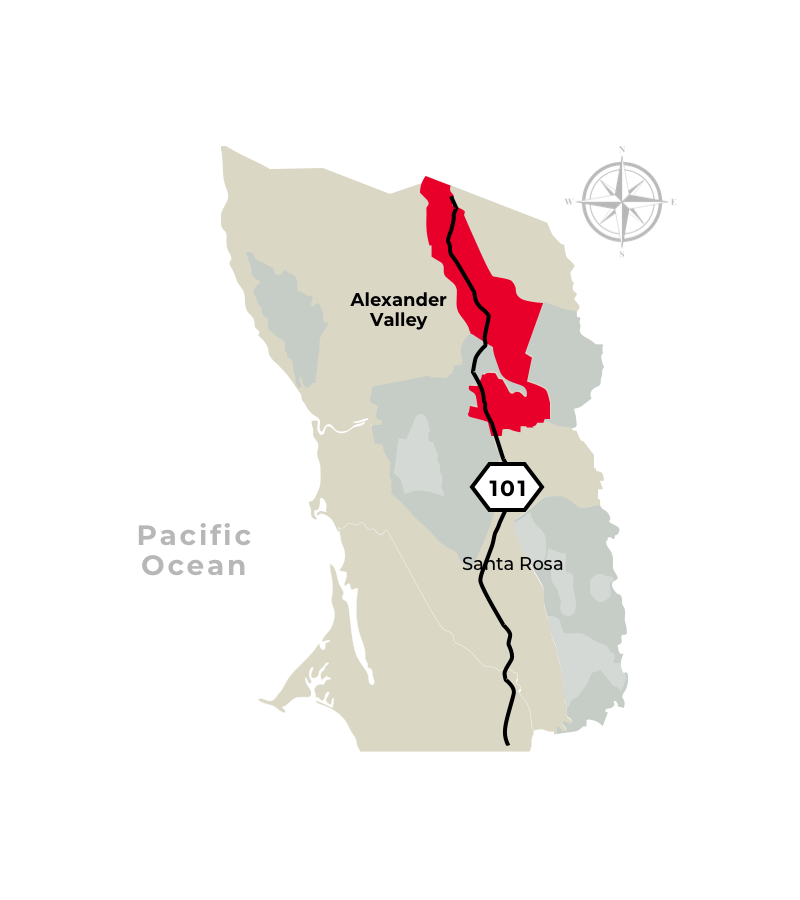 Alexander Valley
Because of its long, narrow shape, Alexander Valley possesses two distinct climates and a variety of soil compositions, including red volcanic rock, alluvial gravel, and clay loam. The southern portion, which is closer to the coast, is blanketed by fog that creates a natural air conditioning in the late afternoon. The northern part of the appellation isn't affected by marine conditions until the evening, so the grapes there ripen faster. Our estate vineyards reside in the middle of the appellation between the Pacific Ocean and the Russian River. As you might expect, there's a lot of geological diversity in H-Block, which makes for very intriguing and expressive Cabernet Sauvignon fruit.
Pairs Well With